Italian Economy May Have Worst Year Since 2013, OECD Says
(Bloomberg) -- The OECD slashed its forecast for the Italian economy to a 0.2 percent contraction this year, reflecting the effects of the global trade slowdown.
Italy fell into recession at the end of 2018, and is still battling the slump despite a recent increase in exports, fixed investment and domestic consumption. Premier Giuseppe Conte's government has been dismissive of economists' negative outlooks, saying output will increase later this year.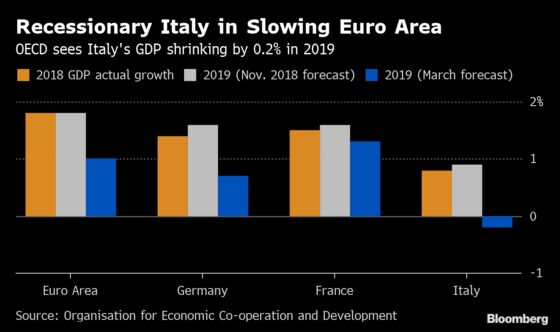 The yield on the Italian 10-year bond was down 1 basis point to 2.7 percent at 12:45 p.m. in Milan, while the benchmark FTSE MIB stock index was up 0.4 percent.
The Organization for Economic Cooperation and Development said its sharp downward revision in the forecasts for Italy and Germany reflects the countries' "relatively high exposures to the global trade slowdown compared with that of France."
Italy's projected 0.2 percent contraction this year would be the worst performance since the country's output fell 1.7 percent in 2013. The latest figure compares with 0.9 percent growth foreseen by the OECD in November.
For more on the outlook for the Italian economy, please click here
The Paris-based organization said Italy will return to growth next year, but with only a 0.5 percent expansion.
The OECD did see some bright spots for Italy, including lower headline inflation and supportive fiscal measures.
The European Commission also foresees a slowdown for Italy this year, but with the economy still registering 0.2 percent expansion. The Bank of Italy foresees 0.6 percent expansion, while the populist coalition is looking for 1 percent growth.