Italian Consumer Confidence Rises, Manufacturing Morale Down
(Bloomberg) -- Italian consumer confidence jumped this month while manufacturing morale fell under the country's new populist government.
Household morale increased to 116.2 from a revised 113.9 last month. Prime Minister Giuseppe Conte's coalition has promised tax cuts and spending increases that have appealed to ordinary Italians.
The business gauge declined in June to 106.9 from a revised 107.6 the month before, statistics bureau Istat said on Wednesday in Rome. That was slightly below the median estimate of 107 in a Bloomberg survey of 13 analysts.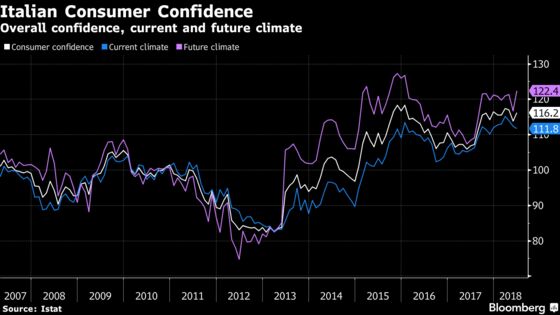 "Domestic demand is likely to suffer less than other components such as exports from an economic slowdown in coming months," said Andrea Montanino, chief economist at employers' lobby Confindustria. That partly explains why consumers show more optimism than executives, he added.
Confindustria will release later on Wednesday its new forecasts on economy and public finance this year and next.
Istat's confidence survey was conducted in the first half of this month. Italy's new coalition government was sworn in to office on June 1, and has been seeking to square its populist rhetoric with the realities of a slow-growing economy and European Union rules.
The economy expanded 0.3 percent in the first quarter of this year, the same as in the final three months of 2017. The country is forecast to turn in the worst growth pace among euro-area countries this year and next, according to the Brussels-based European Commission.
The new Italian government and its most outspoken member, Interior Minister Matteo Salvini, have rattled financial markets with pledges to cut taxes on businesses and households while increasing income support for the poor.
The yield on the Italian 10-year government bond has risen above 2.8 percent from 2.55 percent a week ago.