Here's What Italy Signed Up to When Xi Came to Rome
(Bloomberg) -- The landmark accord that Italy signed to join China's global Belt and Road infrastructure project embraces strategic sectors from telecommunications to energy and ports, despite the unease of U.S. and European allies at the Asian power's reach.
The memorandum of understanding sealed at a Rome ceremony with Chinese President Xi Jinping on Saturday urges stronger cooperation to improve connectivity between Asia and Europe in a range of sectors including finance, according to the seven-page text of the accord published on the website of the economic development ministry.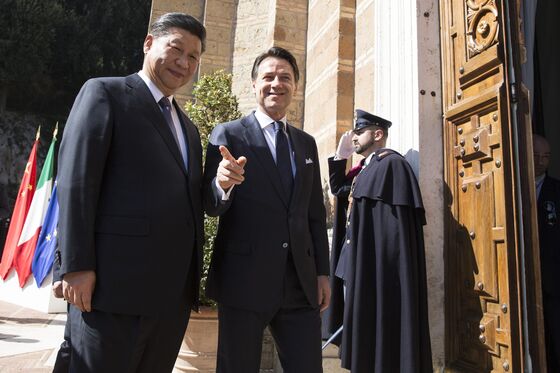 Here are the main points of the deal.
Italy and China pledge to boost infrastructure ties, including financing, interoperability and logistics "in areas of mutual interest (such as roads, railways, bridges, civil aviation, ports, energy -- including renewables and natural gas -- and telecommunications)."
The signatories pledge to work together within the Asian Infrastructure Investment Bank (AIIB), a Beijing-based multilateral development bank that started operations in 2016. Critics say that the goal of the AIIB is to expand China's political clout throughout Asia.
The two countries also say they favor "partnerships between the respective financial institutions" to jointly support cooperation on investments and funding.
Italy and China pledge to boost two-way investment and trade flow, industrial cooperation, as well as cooperation in third-country markets. Within Belt and Road, they pledge to promote "transparent, non-discriminatory, free and open trade and industrial cooperation, an open procurement, level playing field and the respect for intellectual property rights."
The accord recalls European Union agreements on cooperation with China, and EU priorities on investment and transport networks across the continent. Italian leaders have insisted that this memorandum gives much more space to EU principles than similar accords signed by other member states with China in the past.
The two countries say their approach on Belt and Road aims to follow "a sustainable, environmentally-friendly approach, actively promoting the global process towards green development, low carbon and circular development."