Italian Manufacturing Downturn Deepens With Second Contraction
(Bloomberg) -- Italian manufacturing shrank for a second straight month in November, further bad news for the economy amid a budget battle that's undermining confidence.
In its monthly report, IHS Markit said an index of factory activity fell to 48.6 from 49.2 in October. That's a sharper fall than economists forecast and takes the gauge to its lowest in four years.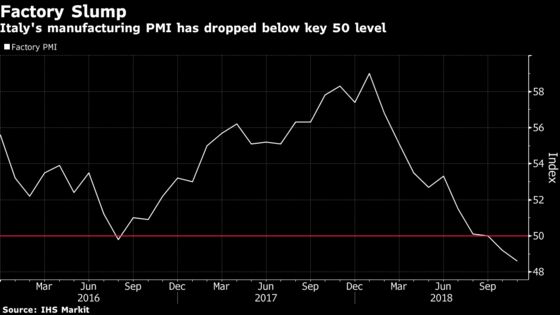 New orders also declined and confidence about the next 12 months dropped to the weakest since early 2013. There was one positive element in the report, with payrolls continuing to rise.
"However, this positive sentiment was undercut by concerns over political stability and fears of a domestic economic slowdown," said Amritpal Virdee, economist at IHS Markit. "With the hopeful conclusion of the government budget negotiations with Brussels and the effective resolution of the Italian banking infrastructure, business confidence may strengthen from its current weak level."
The decline in the PMI comes amid reports that Italy's two powerful deputy premiers, Matteo Salvini and Luigi Di Maio, are ready to back down on their hard-line deficit target demands. That could ease tensions with the European Union over the country's budget. Finance ministers from the euro area are meeting in Brussels on Monday, with the Italian budget stalemate one of the key topics.