Italian Jobless Rate Fell Slightly in November
(Bloomberg) -- The Italian unemployment rate fell slightly to 10.5 percent in November as the nation's economic outlook remains uncertain.
The gauge was down from 10.6 percent in October, statistics agency Istat said in Rome on Wednesday. That matched the median estimate in a Bloomberg survey. Employment declined by 4,000 people.
Both the number of employed people and job seekers fell in November, increasing the total of those not participating in the labor market.
The data "confirm that a moderation in new hiring is now in the cards, consistent with slowing economic activity and increasing uncertainty about future economic prospects," said Loredana Federico, chief Italian economist at UniCredit in Milan.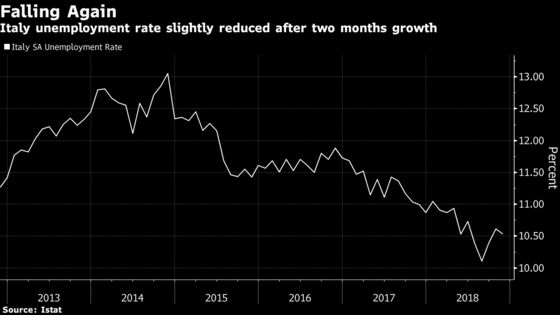 Italy may have headed into recession in the final three months of the year. Fourth-quarter gross domestic product data will be released on Jan. 31.
Youth unemployment remains a major hurdle. The percentage of young people out of a job was 31.6 percent in November.
Discord within government coalition could jeopardize employment, growth goals.
The November unemployment rate for the entire 19-nation euro area will be released at 11 a.m. in Luxembourg. The gauge was 8.1 percent in October.
ITALY INSIGHT: EU Tussle May Have Tipped Economy Into Recession
The Italian government, which has been in office since June 1, has been struggling to balance its populist program against the reality of limited financial resources. Italy has suffered from years of near-stagnation and the European Commission says it expects the country to have the slowest growth rate in the 19-nation euro region this year and next.