Italian Inflation Hits Highest in More Than a Decade on Energy
Italian inflation reached its quickest in more than a decade as surging energy costs continued to drive prices higher.
The cost of living rose by 4.2% from a year ago in December, compared with a 3.9% advance the previous month, Italy's Istat statistics institute said Wednesday in a statement. The number was in line with the estimates of economists surveyed by Bloomberg.
While nearby Spain also recorded the fastest inflation in 30 years for December, euro-area countries located further north may have already experienced the peak. French prices stabilized last month, according to figures released earlier this week, while German data due Thursday are expected to show that inflation eased in the runup to Christmas.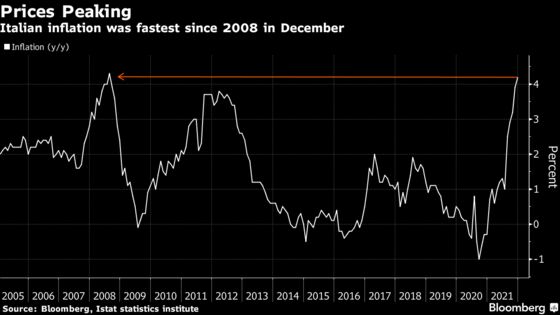 Expectations for price growth to slow in the currency bloc as a whole allowed the European Central Bank to map out an exit from pandemic monetary stimulus in December. The Frankfurt-based institution plans to end net purchases under an emergency bond-buying program in March, despite the economic threat from the coronavirus's omicron variant.  
In Italy, the main factor stoking price growth remains energy costs with utility bills rising 14.4% from a year earlier and transportation costs up 9.6%. There was a 3.6% increase in prices for services related to hospitality, such as hotels and restaurants. Food and beverage costs climbed 2.9%.
The government, led by Prime Minister Mario Draghi, has acted repeatedly to mitigate the impact of higher electricity and heating bills on families and businesses, setting aside 4 billion euros ($4.5 billion) from the budget for that purpose in the first part of 2022.