Italian Industrial Output Surged More Than 40% as Lockdown Eased
(Bloomberg) -- Italian industrial output surged almost twice as much as economists forecast in May when the easing of virus restrictions allowed activity to pick up.
The euro area's third-largest economy saw production jump 42% from the previous month, compared with forecasts for a 24% increase. However, even with that gain, output is still down more than 20% from a year earlier.
Separate figures from France also showed a sharp rebound in May.
| Industrial Production | May (MoM) | Forecast | April |
| --- | --- | --- | --- |
| France | +19.6% | +15.4% | -20.6% |
| Italy | +42.1% | +24.0% | -20.5% |
| Spain | +14.7% | +16.9% | -22.1% |
| Germany | +7.8% | +11.1% | -17.5% |
Huge gains across the euro area are painting a somewhat false picture of the strength of any economy. Many businesses and sectors are still unable to operate at full capacity, and unemployment -- already on the rise -- could spike once government aid programs end or wind down.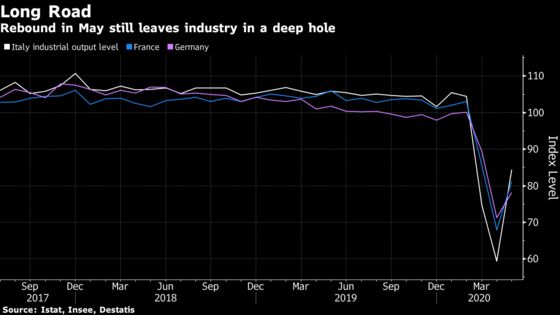 In a report on Friday, Marchel Alexandrovich at Jefferies said the labor market is a key metric for understanding the multi-speed recovery likely to take place across the main euro-region countries.
"The critical moment for the individual economies will be when the various government support schemes start to get phased out," he said. "Given the unprecedented scale of the shock and the sheer number of jobs at risk, it's unrealistic to imagine that each economy will have the same exact experience of how quickly unemployment levels return to their 2019 levels."
With official data only released with a lag, many analysts are looking to other indicators such as traffic and power generation. In Germany, for example, the truck toll mileage index rose 4.7% in June after gaining more than 6% in May. It had fallen sharply in the previous two months.
At Citigroup, analysis of pollution data show the recovery will be slow and long. It said emission levels in France and Germany indicate that manufacturing output was still as much as 15% below its year-earlier levels in June. Italy's figure suggested a 30% shortfall.