Italian Industrial Output Complicates Government Budget Work
(Bloomberg) -- Italy's industrial production slowed to the lowest annual pace in more than a year in a setback for the government's populist program.
Output increased 1.7 percent in June from a year earlier when adjusted for working days, the weakest since April 2017, national statistics institute Istat said Friday in Rome. The median estimate of six analysts in a Bloomberg survey called for a 1.5 percent annual rise in June. Industrial production rose 0.5 percent in June compared with the previous month.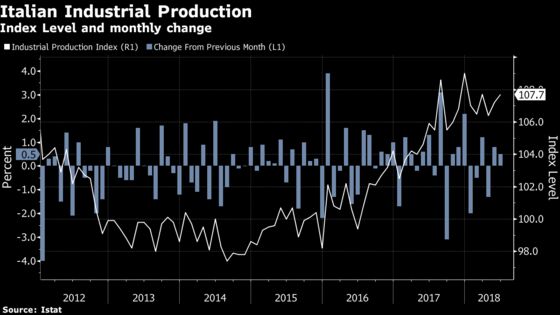 Pharmaceuticals and transportation led the June increase, Istat said.
Italy's gross domestic product expanded 0.2 percent in the three months through June, down from 0.3 percent in the first quarter, Istat said Tuesday. The latest reading is the weakest pace in almost two years.
Italy is still trailing behind the euro area as a whole, which itself slowed to 0.3 percent growth in the second quarter.
Political leaders were scheduled to meet at 11 a.m. Friday in Rome, in the first top-level look at next year's budget, newspaper La Stampa reported. Finance Minister Giovanni Tria has promised to stay within European Union budget rules, while coalition partners the League and Five Star Movement are pushing for lower taxes and financial help for the poor.
Istat said in a separate, monthly note it sees a continuing slowdown in the country's economic growth, reflecting lower net exports.
Italy's draft budget plan is due in Brussels by mid-October for a review by the European Union.
In another potential trouble spot, Istat said the Italian unemployment rate rose to 10.9 percent in June from 10.7 percent the month before.
Italy's economy expanded 1.5 percent last year, the most since 2010. That is expected to slow to 1.3 percent for the full year 2018.