Italian Economy Unexpectedly Stalls in Setback for Populists
(Bloomberg) -- Italy's economy stalled for the first time in almost four years, putting pressure on the populist government's ambitious spending plans.
The government acknowledged that the unexpected stagnation in the third quarter was a concern. Deputy Finance Minister Massimo Garavaglia said in an interview it signals the need for more public and private investment at a time when cooling global trade has hit exports.
Italian bonds fell after the preliminary data, which leave the nation as the underperformer among the euro area's major economies. The 10-year bond yield rose as much as 7 basis points to 3.41 percent, pushing the spread over German equivalent bunds back above 300 basis points.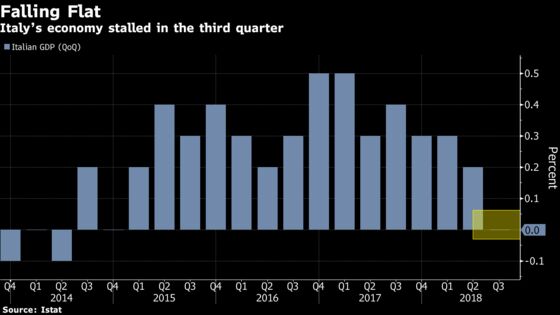 Statistics office Istat said the lack of growth in the euro area's third largest economy was due to a "decrease in industry." On the demand side, there was zero contribution from net exports.
Citigroup also blamed "weak exports and export-driven manufacturing activity." Worryingly, it said tighter financial conditions will weigh on growth ahead and it sees no signs that exports will bounce back significantly in the near term.
Italy's performance weighed on the broader euro zone. Average growth across the 19-nation region was 0.2 percent, half the pace of the previous three months. Germany's economy may also have stagnated, partly due to issues in the auto industry.
Garavaglia, a member of the League, said that Italy's 2019 budget law, which includes a controversial increase in spending with a deficit target of 2.4 percent of output, is what's needed to support growth. But the plan has run into a firm "no" from the European Union, which wants Rome to submit a new one.
What Our Economists Say...
"Italy's economy ground to a halt in 3Q. Political uncertainty has become more pronounced with a standoff between Rome and Brussels over the populist government's spending plans. That's driven up yields and will be weighing on credit provision. The risk is now that Italy's recovery swings into reverse."

--Jamie Murray, Bloomberg Economics

Read our Italy React here
Investors have also responded negatively to the fiscal program, pushing bond yields higher, and Italy has been slapped with a credit rating downgrade by Moody's Investors Service.
Amid the heightened uncertainty, Italian business said the government must take full responsibility. No growth will be the "exclusive fault of this government and of its economic policies, not of others," said Vincenzo Boccia, head of lobby group Confindustria.
It's already said that the government's 2019 growth target of 1.5 percent is "very improbable."