Eurozone Crisis Echoes in Bank Bond Risk Eclipsing Latin America
(Bloomberg) -- A gauge of financial health is flashing a warning sign on European growth.
Investors are demanding higher premiums for the region's riskiest bank bonds than those for Latin American lenders -- the first time that's happened since the throes of the eurozone crisis in 2012.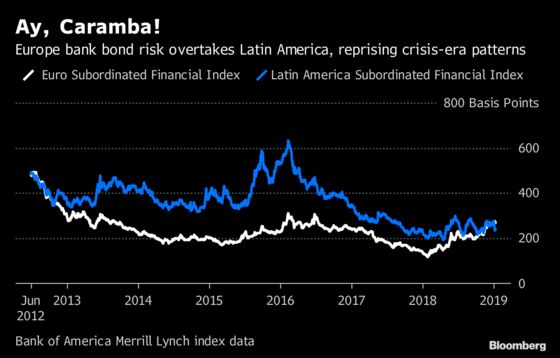 To Alberto Gallo, a partner at London hedge fund Algebris Investments, it's a buying opportunity.
"We have seen a lot of bonds being priced for a recession, particularly in the U.K., in Spain, in the periphery," Gallo said in an interview with Bloomberg TV on Jan. 9. "If you don't have this recession imminently than you're getting paid a very, very handsome return here."
Gallo, who spent the crisis years as a credit analyst at Royal Bank of Scotland Plc, was struck by the spread, of 660 basis points, on Barclays Plc's contingent capital notes. It elevates the risk to near that of credit-default swaps on Argentine sovereign debt. He admits the comparison is not apples-to-apples but says it's illustrative nonetheless.
A similar-ranked Deutsche Bank bond trades at a whopping 1231 basis points to benchmarks, making refinancing more onerous.
With spreads over-compensating investors relative to balance-sheet distress, Barings LLC also touts high-yield bonds in Europe as the biggest winner if global risk appetite recovers.
"In a slowdown, Barclays doesn't have a problem of capital solvency so that's how cheap things have gotten," Gallo said. "We think that the market has priced a lot of extreme tail risk of a recession in Europe. We think this is a growth scare, not a real recession coming."