Istanbul Working on Eurobonds After State Banks 'Shut the Doors'
(Bloomberg) -- Istanbul is working on a plan to sell Eurobonds to finance projects after state lenders "shut the doors" on the city's opposition-run local government, according to Mayor Ekrem Imamoglu.
"It's sad that the state lenders remain distant to us since we came into office," Imamoglu told reporters on Sunday. "I don't know what their motives are. However, I have no doubt that we will find funding from Europe."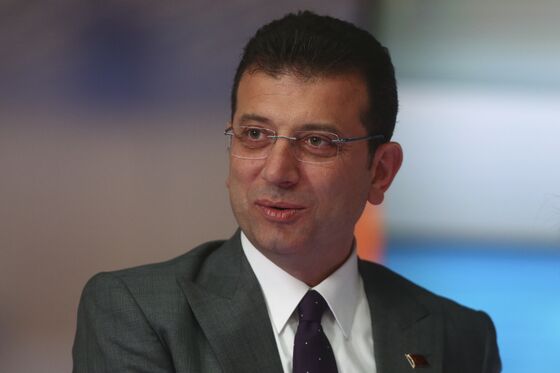 The new mayor's remarks highlight the difficulties he faces running the nation's largest city after wresting control from Presidetn Recep Tayyip Erdogan's ruling AK Party. Imamoglu was in London earlier this month as part of his trips abroad to secure financing for infrastructure projects. The success of those plans is critical to the political future of the 49-year-old mayor, who's widely seen as a potential contender to Erdogan in next presidential election, currently scheduled for 2023.
The mayor said a 110 million euro loan ($121.3 million) from Deutsche Bank will help resume construction of a subway project that has been on hold for two years. The municipality is no longer able to use state-run banks to fund operations even though it's been a key conduit for most daily activities, including paying salaries, according to Imamoglu.
"They haven't even let us take out routine loans. The state banks seem to have shut the doors on us," he said. The municipality got loans from private banks in Turkey and abroad to be able to continue basic operations and fund key infrastructure projects, he said.
Imamoglu faces an unconsolidated debt that has more than tripled since 2014. Should the city council back his bond plan, it would still need to be approved by the Treasury and Finance Minister Berat Albayrak, a son-in-law of the president. Imamoglu said he expected the required approvals to come through.
Imamoglu is well-versed in facing obstacles put up by Erdogan. After his Republican People's Party won the original vote in March by a slender margin, Erdogan and allies complained of election fraud. Following the authorities' decision to nullify the vote, Imamoglu beat Erdogan's candidate by nearly a million votes in a June election do-over, leaving little room for doubt or complaints.