Iron Ore Sinks as China's Top Steel Group Urges Probe Into Rally
(Bloomberg) -- The largest steel industry group in China has urged the government to maintain order in the global iron ore market after prices surged to a five-year high following a supply squeeze, saying that it's requested authorities look into the gains. Futures slumped.
The China Iron & Steel Association "is reporting relevant problems in the industry to government ministries and regulators, urging a stronger investigation and supervision to maintain normal iron ore market order," Vice Chairwoman Qu Xiuli said at a conference in Shanghai on Friday. The group wants to see prices back at "reasonable levels," she said.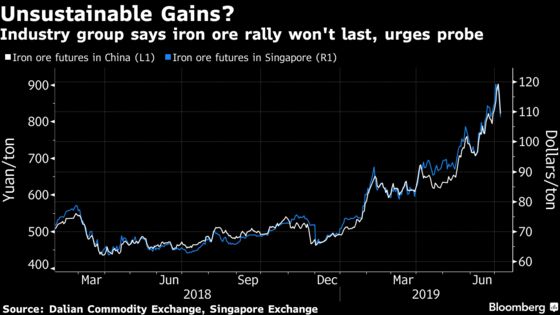 Iron ore, which had surged above $120 a ton after a dam disaster in Brazil and bad weather in Australia curtailed shipments just as China's mills ramped up steel output, is in freefall as the negatives stack up. CISA's intervention follows warnings from other market watchers that the extraordinary gains may have outstripped fundamentals. This week, CRU Group that prices had become disconnected as supply is improving and steel consumption is set to soften.
The gains can't be sustained as "there is no issue with supply," Qu said, citing recovering output in Brazil and a rise in Chinese production. Speculation may have helped to drive the rally, she said. The iron ore market may move to a surplus this half as Chinese steel output growth slows, according to Qu.
Iron ore sank as much as 6.2% to $107.20 a ton on the Singapore Exchange on Friday after closing at a five-year high on Monday, and traded 5% lower at $108.58 at 5:33 p.m. The decline followed a 3.1% tumble on Thursday. On China's Dalian Commodity Exchange futures closed 4.4% lower.
At least eight major steelmakers met late last month and agreed to examine issues affecting the industry, according to people with knowledge of the situation. The group will examine whether iron ore prices accurately reflect the market, including the role of speculators in futures markets and spot price index methodologies, as well as the country's imports, said the people, who asked not to be identified as the discussions were private. They will report their findings to government agencies and the State Council.
CISA is the preeminent grouping for the steel industry in the mainland, and represents the largest companies in the world's biggest iron ore importer. Asia's top economy accounts for about half of the world's steel production, and trends in its mammoth industry set the tone for conditions worldwide.
"The big risk is that speculators with money in iron ore futures could get hit by regulators trying to cool the market," said Tomas Gutierrez, an analyst at Kallanish Commodities Ltd. in Shanghai. "In the past, regulators have pushed for higher fees and other measures when they see a market move too quickly for their liking."
For related stories on the global iron ore market this week:
Vale SA, the world's largest iron ore producer, fell Friday, heading for its worst week since May. In Sydney, miners declined. Fortescue Metals Group Ltd., which has seen its stock more than double this year, sank more than 4% as BHP Group and Rio Tinto Group fell. Still, given the miners' costs of production remain far lower than current prices, they'll earn very substantial margins even after the drop.
Earlier this week, China's largest iron ore broker slashed its bullish bets. Yongan Futures Co. cut the wagers more than 25% in two trading sessions, according to exchange data on Thursday.