Iron Ore Confronts 'Turning Point' as Futures Battered Yet Again
(Bloomberg) -- Iron ore is taking a beating amid mounting signals the tightness in the seaborne market that hoisted prices to multiyear highs is easing as leading miners boost shipments and stockpiles in China swell.
"It's now a turning point," said Ban Peng, an analyst at Maike Futures Co. "Recent exports from Brazil have been slightly better than our expectations, and supply from the top miners including Vale SA should increase in the fourth quarter, which is typically a peak season. " Ban also highlighted port holdings.
Futures in Singapore extended a slump, with losses of above 6% over the past three days. On China's Dalian Commodity Exchange, the most-active contract slid to the lowest close in more than two months.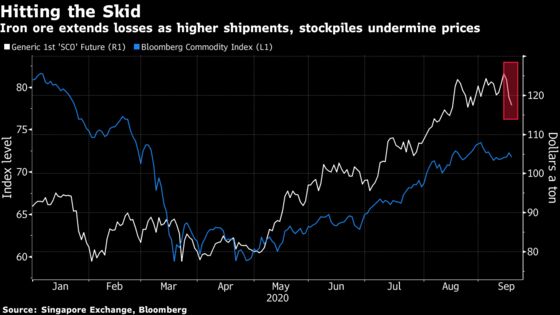 Iron ore has turned in a blistering performance this year as virus-hit China responded with steel-reliant stimilus just as Brazilian shipments lagged. That rally has now been thrown into reverse amid consistent signs global supplies are rebounding, easing a deficit, even as steel production in China hits a record pace. Lower prices may hurt BHP Group, Rio Tinto Group, and Vale SA.
While China's crude steel production just smashed another record, Ban from Maike Futures sees that strength fading. "Consumption levels we are seeing in the first half of the month haven't met market expectations," he said.
In Singapore, futures lost as much as 2.5% to $116.65 a ton, and were 1.8% lower at $117.70 at 3:49 p.m. That follows Wednesday's drop of as much as 4.2%, the most since July.