Iranians Dread the Pain of New Sanctions
President Donald Trump insists his decision to reimpose sanctions on Iran's oil sales is aimed at the government and not "the long-suffering Iranian people."
The hopes of Iranians who endured a decade of sanctions and looked to the 2015 nuclear deal as a promise of better living standards have been dashed. Even before the measures took effect today, the national currency had lost about 70 percent of its value against the dollar.
Some shoppers are hoarding goods while a number of retailers are withholding products in anticipation of higher prices to come. That's prompted warnings from the authorities and surprise visits by the security forces to halt the practice.
Iran's top leaders have expressed defiance, vowing to keep the economy afloat and work with European partners to the nuclear deal to keep business channels open. And at least eight countries will get waivers to import Iranian crude.
But the authorities are concerned. Facing sporadic public protests since December, they have announced plans to hand out food baskets to the poor — a sign they fear worse may be coming.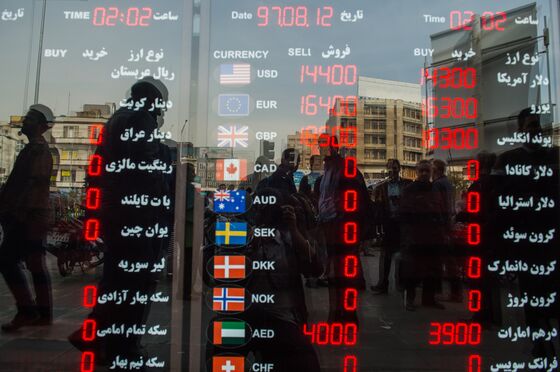 End game | The most expensive Congressional midterm campaign in U.S. history is racing to a climax, with both sides braced for a possible split decision that would hand the House to Democrats and leave Republicans holding onto or expanding their Senate majority. Partisans are preparing for the unexpected, though, two years after Trump's surprise win. Click here for a graphic illustrating how historic voting patterns portend potential challenges for Democrats. 
Read more about tomorrow's elections:
China hits back | If Chinese President Xi Jinping is getting ready to make big concessions to the U.S., his speech at a Shanghai trade fair didn't show it. Xi slammed Trump's "America First" policies today with some of his most pointed language yet, denouncing "law of the jungle" and "beggar-thy-neighbor" trade practices. Stocks declined across Asia, as optimism for a quick trade deal faded.
Eyeing Saudi riches | Bankers are inching back to Saudi Arabia, saying the rewards far outweigh the risks of shunning it over the unexplained Oct. 2 murder of columnist Jamal Khashoggi at the Saudi consultant in Istanbul. And Saudis angry at The Washington Post's coverage of his death are calling for a boycott of Amazon.com because of its shared ownership by U.S. billionaire Jeff Bezos. Many are upset by an op-ed by Turkish President Recep Tayyip Erdogan published in the Post last week  blaming the Saudi government for the killing.
Falling turnout | Forget the populist and nationalist movements, the European Union may be facing a bigger threat: voter apathy. The bloc's authorities are mounting an unprecedented campaign to reverse a steady decline in balloting and stoke enthusiasm for legislative elections next May. As EU Parliament Vice President Ramon Luis Valcarcel put it, "it boils down to whether Europe is regarded as useful or not."
Old wounds reopened | Japanese Foreign Minister Taro Kono says it's up to South Korea to resolve forced labor claims looming over dozens of Japanese companies. Kono told Isabel Reynolds that a South Korean court's decision ordering a Japanese company to compensate people forced into its service during Japan's 1910-45 occupation of the country posed a "serious challenge" to relations. Japan holds that such claims were settled under a 1965 treaty.
There are signs U.K. and European Union negotiators are getting close to a breakthrough on Brexit, though Prime Minister Theresa May would still need to get her ministers' backing for a draft deal. Her Cabinet meets tomorrow.
And finally... A robo-call in the southern U.S. state of Georgia is providing perhaps the starkest example yet of the overtly racist rhetoric that has emerged in this midterm election cycle. "This is the magical Negro Oprah Winfrey asking you to make my fellow Negress Stacey Abrams the governor of Georgia," the call states, referring to the former television host and the Democratic candidate. Abrams, who could pull off an upset win tomorrow to become the first black female governor, described the call a desperate and "vile" attempt to sway voters.