Iowa 'Train Wreck' Gives Trump an Opening
The Iowa caucuses have conditioned political watchers to be on guard for surprises. But yesterday's was still a jaw dropper.
A technological disaster took a contest to refine an unwieldy presidential field and turned it into a political debacle. It exposes Democrats to accusations they aren't organized enough to win back the White House in November.
The Iowa Democratic Party was unable to publish results after discovering "inconsistencies" in reporting from some precincts. It said tallies may be released some time today but gave no firm timeline.
In the void, candidates began delivering versions of their post-caucus victory speeches, and several campaigns leaked unverified internal data to claim strong showings.
President Donald Trump and his allies ridiculed the chaos and used it to try to stoke divisions, suggesting the party was seeking to "fix" the results. Brad Parscale, Trump's campaign manager, called it "the sloppiest train wreck in history."
The timing couldn't be better for Trump, who'll get an opportunity tonight to crow over the misstep — while looking especially presidential — during his annual State of the Union address, which falls on the eve of his all-but-certain acquittal in the Senate impeachment trial.
At least so far, Trump appears to be the clearest winner out of Iowa.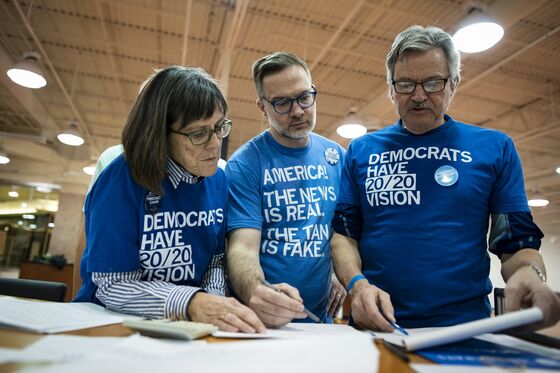 Hong Kong casualty | Hong Kong reported a death from the coronavirus, confirming the second fatality outside mainland China, where the number of cases has topped 20,000. The spread can remain "minimal and slow" if the virus is fought at the source and nations cooperate, the World Health Organization said.
President Xi Jinping told a rare meeting of the Communist Party's powerful Politburo Standing Committee that the virus could affect social stability.
Euro losers | The head of Italy's surging right-wing party says the European Union must compensate members that suffered from adopting the euro. Giorgia Meloni, an increasingly influential player in Italian politics, told John Follain and Alessandro Speciale that while she doesn't favor quitting the currency, which she called "a Deutsche Mark with a new name," the EU needs to help "the ones that have lost."
Muscular diplomacy | Russia is waging an increasingly assertive campaign at the United Nations to fend off scrutiny of its actions in Syria, David Wainer reports. It held up UN budget talks over a $17 million line item to investigate human-rights violations in the conflict and stared down western powers over aid corridors into Syria. As Western allies struggle to respond, UN diplomats say Russia is increasingly confident about exercising its power.
Confusing signals | No one expected an orthodox governing style when Argentine President Alberto Fernandez swept to power on a promise to end austerity and free-market policies. But as Patrick Gillespie explains, his first month in office has produced some head-scratchers — like ditching economic forecasts because they damage credibility. Investors still don't know how he plans to dig his way out of a $311 billion debt hole. Yet the government says it has a plan to wrap up talks with creditors by the end of March.
Trump plans to use the State of the Union address to try to move past his impeachment and make his case for re-election by taking credit for a strong economy, newly signed trade deals and a crackdown on immigration.
Brazil's Congress resumes work this week, with at least 10 proposals to boost public finances and spur growth either already in the chamber or about to be submitted, testing lawmakers' appetite for additional reforms under President Jair Bolsonaro.
Malawi's Constitutional Court ordered fresh elections within five months after annulling the results of a presidential vote last year that the opposition said was rigged.
Tell us how we're doing or what we're missing at balancepower@bloomberg.net.
And finally ... North Korea under Kim Jong Un has focused on developing more advanced bombs, and he may now try to make them harder to find. Recent North Korean reports are fueling speculation that a nuclear weapons-capable submarine may be the "new strategic weapon" he promised to unveil this year. While such a vessel would probably be noisy and unable to go far without being tracked, it may be enough to serve Kim's needs.