Investors in the U.S. Are Most Exposed to Trade War Risks
(Bloomberg) -- Go inside the global economy with Stephanie Flanders in her new podcast, Stephanomics. Subscribe via Pocket Cast or iTunes.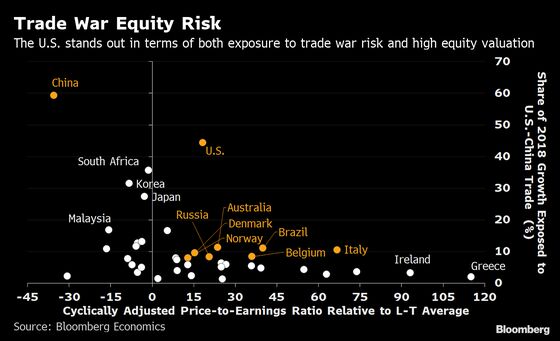 The U.S. stands out in terms of both exposure to trade war risk and high equity valuation relative to recent history, according to an analysis by Bloomberg Economics. Given President Donald Trump's focus on the stock market as a report card of his performance, a tariff-induced drop could yet bring the U.S. back to the negotiating table. China faces an even greater risk to economic growth from the trade war, but -- with equity valuations low relative to historical levels -- investors appear to have already priced in some of the impact.