Markets Call Five Star Bluff in Italian Budget Brinkmanship
(Bloomberg) -- Investors brushed off Five Star Leader Luigi Di Maio's latest efforts to get back into the political game in Italy, ignoring his threats to block the 2019 budget.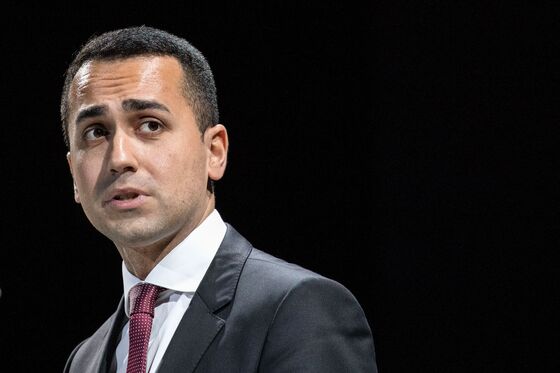 Italian bond yields have leaped around in recent weeks as Deputy Prime Minister Matteo Salvini and Finance Minister Giovanni Tria fought in public over how far to push the country's budget deficit next year. But when Di Maio weighed in barely 48 hours before the deadline to produce an initial deal, bond investors simply shrugged.
The yield on 10-year bonds fell 7 basis points to 2.81 percent at 12:53 p.m. in Rome Wednesday, more than 50 basis points lower than their peak at the end of May. The premium paid to investors to hold Italian bonds over German bunds was 227 basis points, the lowest since the start of August.
"Di Maio hasn't won in his internal debates yet," said Richard Kelly, head of global strategy at Toronto-Dominion Bank in London. "The default position now is a smaller deficit unless Di Maio can get concessions, rather than the other way around."
Despite leading the biggest group in parliament, 32-year-old Di Maio has been consistently outmaneuvered by the anti-immigration drive of his coalition partner Matteo Salvini. Salvini's League won barely half as many votes as Five Star in March's general election, but recent opinion polls have shown the League with a consistent lead of around 4 percentage points over Di Maio's group.
After sending out mixed messages over recent weeks, his latest threat is failing to convince many observers.
"I don't believe Di Maio either," said Federico Niglia, a professor of history and politics at Luiss University in Rome. "He's in a weak position."
Di Maio told ministers from his party late Tuesday that he is prepared to withdraw support for the budget unless it includes funding for the party's flagship plan to boost incomes for the poor, according to a party official, who asked not to be named discussing private conversations.
"The Five Star Movement will vote for a courageous budget, meaning a budget that keeps our promises," Di Maio, who is also a deputy premier, said Wednesday in an interview on Radio Capital. "People have to notice an improvement, otherwise it's not worth it."
But Tria repeated at an event in Rome Wednesday that some form of citizens' income support will be included in the upcoming budget, implying that Di Maio was complaining about nothing.
"Di Maio is running out of steam in his efforts to catch up to Salvini and he's talking nonsense," said Nathalie Tocci, director of the Rome-based Istituto Affari Internazionali. "He doesn't have the power to block the budget. The most likely scenario is that a semi-acceptable budget will emerge one way or other, and this government will continue since they have no choice but to make things work."
Di Maio and League leader Salvini have been pushing for extra resources to deliver their key election promises -- Salvini's League is aiming to lower income tax while both want to revoke a 2011 pension reform that raised the retirement age. But Italy's 2.3-trillion-euro ($2.7 trillion) debt puts a limit on Tria's ability to fund those policies.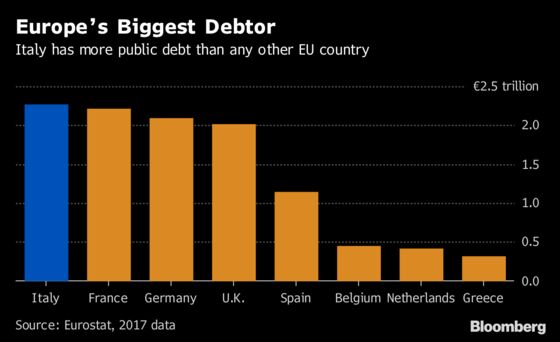 With Prime Minister Giuseppe Conte in New York to attend the United Nations general assembly, officials have been discussing their key targets for the budget deficit and government debt levels under Tria's supervision. The finance chief has insisted that the coalition's plans will have to be implemented gradually over the five-year parliamentary term.
Messaggero daily reported that Tria may settle on a deficit target between 1.9 percent and 2 percent of GDP for next year. La Stampa reported that Di Maio wants as much as 2.5 percent. Conte returns from New York on Thursday morning before a cabinet meeting to agree on the final target.
After cabinet approval, the budget accord will head to Brussels for examination by the European Commission, which has repeatedly warned Italy to get its debt under control. Italy's Parliament must ratify a final package by year end.