Investors Betting on Germany Are Waiting for Economy to Catch Up
Investors are giving Germany the benefit of the doubt after a year of economic turmoil that put the economy on recession watch.
The benchmark DAX index -- up 25% this year -- is near a record, and analysts' rating upgrades of DAX stocks outnumbered downgrades for the first time in nine months in October. The strong performance reflects optimism that the worst of the manufacturing slump may be over, and a pick up in momentum lies ahead.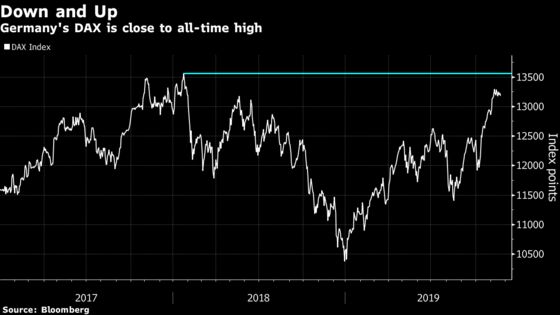 The economy unexpectedly grew in the third quarter, dodging a widely anticipated recession, but it'll be a long and bumpy road to recovery. Even though the majority of corporate earnings exceeded estimates in the period, many firms -- including Volkswagen AG, Daimler AG and Continental AG -- have slashed their outlooks, pointing to weakening demand in some regions and persistent trade tensions.
"If the trade war continues, we're stuck between a rock and a hard place, between China and the U.S.," Siemens AG Chief Executive Officer Josef Kaeser said in an interview. A surge in quarterly profit at the DAX heavyweight came with a warning that continued trouble in the auto industry will hurt business.
Osram AG had "one of the most challenging years" in its history, according to CEO Olaf Berlien. "We continue to confront a very tough market environment with lower demand across nearly all markets and with ongoing political and economic uncertainties."
Infineon Technologies AG sees signs the cycle is bottoming. CEO Reinhard Ploss said the eventual recovery, though, won't set in before the second quarter "as major global economies remain in contraction and trade tensions continue to loom."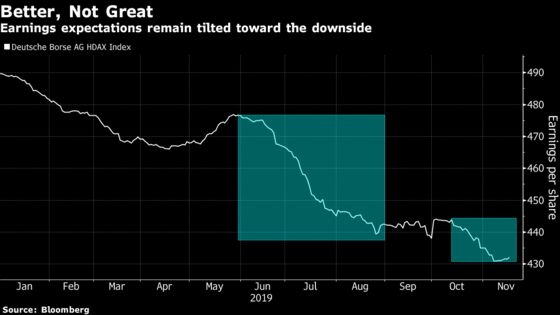 Germany's economy is sending cautious signs of optimism. Business sentiment has stabilized, factory orders ended the third quarter with a solid gain and trade probably contributed to growth as shipments abroad recovered. A detailed breakdown of GDP data will be published Friday.
Part of the improved mood reflects hopes that China and the U.S. can make progress in trade talks and calm the tensions that have put the global economy on notice. That would help reduce the uncertainty that's hit demand and investment, and held back Germany's export-reliant economy.
What Bloomberg's Economists Say

"Roughly half the damage to the global economy from the trade war has stemmed from elevated uncertainty, rather than the direct effect of the U.S.-China tariffs. Even if duties are not rolled back, Germany and others will benefit from the decline in uncertainty. We expect this to put a floor under the downturn in the German economy and for momentum to gather pace gradually in 2020."

--Jamie Rush. Read the GERMANY INSIGHT
A better trade outlook might feed through to improving PMIs, a measure that Morgan Stanley says investors should be "laser focused on" for signs of inflection.
Economists predict a contraction in manufacturing eased in November, and services activity picked up. Those data, along with numbers from France and the euro area, are also due Friday.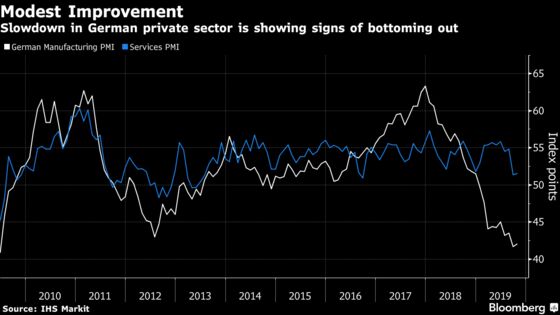 While investor confidence has already climbed to a six-month high, consumers have turned pessimistic. With growth in 2020 seen remaining below 1%, households' assessment of the economic future is at a seven-year low, and cracks appearing in the labor market suggest it may be too early to celebrate Europe's largest economy.
"I am moderately positive for German stocks, but one should not get overly enthusiastic as the restraining factors will limit any strong growth," said Christian von Engelbrechten, a portfolio manager at Fidelity Investments Germany Fund. "That means as an investor you should look for stocks that can grow on their own due to innovation and pricing power, independent from macro factors. And we still have many of them in Germany."