Investors Are More Optimistic on Trade Deal Than It Might Seem
(Bloomberg) -- For all the carnage in U.S. stocks over the past few days, a look at the options markets show investors are still wagering that a trade deal will eventually get done.
Bets on future price swings remain subdued across most markets compared with how they've reacted in the past to major bouts of risk. Even as stock, bond and currency traders are pricing in the likelihood that President Donald Trump will carry out his threat to jack up tariffs on Chinese goods at midnight Friday, investors aren't showing any conviction that the talks will get completely derailed and bring about long-term pain.
"By historical standards, this episode is not yet ranking as a first-order risk-off," said Steven Englander, Standard Chartered Bank's global head of currencies. "To get there I think we need the tariffs, plus significant China retaliation, plus a breakdown in talks."
The relative calm across options markets reflects the confidence investors have that it's in the best interests of both sides to eventually resolve the standoff that's dragged on for more than a year, given the potential damage to economic growth and political capital is just too great. There's still the risk that each side may think it has less to lose than the other, and that's caused the stock pullback of the past few days. But the carnage is far less severe than it would be if investors really thought no deal will get done.
In equity markets, derivatives traders aren't showing the concern they did when trade tensions between the U.S. and China started heating up in 2018.
Back then a chasm opened up between measures of implied volatility on emerging-market equities – which have a heavy weighting toward China – and the Russell 2000 Index of more domestically-geared, small-cap companies. While the spread between the two "fear gauges" for these indexes has expanded recently, the difference is smaller than it was at nearly any point during 2018.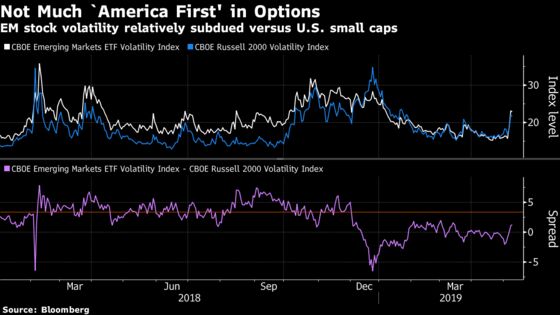 "Some of the typical risk-off trends have yet to develop,'' said Michael Purves, chief global strategist at Weeden & Co. "Given that the Chinese currency and Chinese equities continue to trade weak, and given the potential negative outcomes for China/EM this Friday, we find this lack of volatility premium in EM equities presents an interesting opportunity.''
Option traders in the currency market don't expect the trade tussle to last. Haven currencies still aren't pricing in the future price swings that have shown up during past big risk-off events, such as when stocks tumbled in December on concerns about global growth.
One place to look for trade concern to show up is in the U.S. dollar-Korean won exchange rate. One-week implied volatility for that cross is now slightly higher than its 2018 average. But that may overstate the extent the market is preoccupied with near-term risks. Judging by the spread between one- and two-week implied volatility on the pair, the meeting between Trump and Chinese President Xi Jinping in Buenos Aries and the run-up to tariffs on $50 billion of imported goods last June were seen as higher-profile events by the options market.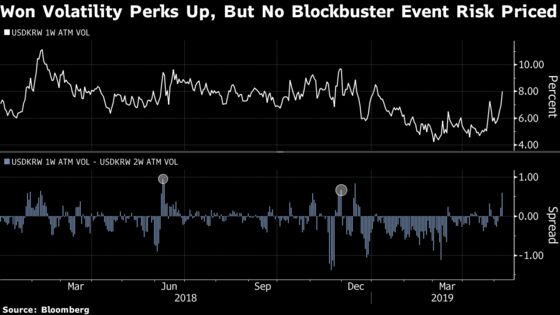 Portfolio managers are looking for cheap alternatives to protect against the risk of sharp currency moves. More specifically, trade war concerns are being expressed directly through yuan risk-reversals, which spiked to the highest in more than a year on Thursday.
Interest-rate volatility has edged up amid the trade spat from the low levels touched at the start of May. But it hasn't been bid nearly as high as it was at the end of March when investors were spooked by data hinting at slowing worldwide growth. In fact, the minor repricing this week has actually been met with a wave of selling as investors fade the move.