IMF Urges Germany to Keep Economy on Pandemic Support
(Bloomberg) -- The German government shouldn't be afraid to bolster fiscal stimulus if the pandemic drags out the economic recovery, according to the International Monetary Fund.
The Washington-based lender urged Chancellor Angela Merkel's administration to consider additional aid for illiquid or insolvent-yet-viable businesses and maintain support for the country's labor market to avoid more permanent scars. Staff envisage a "choppy" and unevenly distributed rebound that will only firm once vaccines have been widely distributed.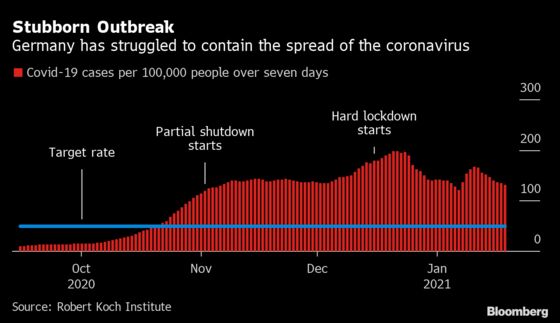 "When you are in a crisis of this magnitude and there is so much uncertainty around the pandemic and the path of the recovery, it's always better to err on the side of caution," Shekhar Aiyar, the IMF's mission chief for Germany, said in an interview.
"If it means one or two firms that should have gone bankrupt don't go bankrupt that's actually better than risking viable businesses to go under because you didn't come up with enough support," he said.
European companies face an equity shortfall of as much as 600 billion euros ($724 billion), as existing government programs and private funding won't suffice to fully cover the roughly 1 trillion euros that businesses need to replace losses suffered during coronavirus restrictions, according to the Association for Financial Markets in Europe.
Finance Minister Olaf Scholz said Tuesday the government is still adding aid "so that we can get off to a powerful start again after the crisis."
Investors expressed confidence in the country's recovery on Tuesday, with a gauge measuring expectations for the next six months rising to the highest since September -- before a second wave of infections triggered renewed restrictions.
The German economy probably avoided a contraction in the fourth quarter, thanks in part to a strong manufacturing sector that isn't as directly affected by virus curbs that have hit restaurants and the travel sector. Prospects for the first quarter are dire though.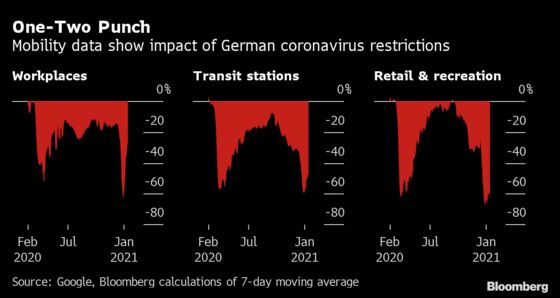 Merkel and state premiers are likely to extend the current lockdown until at least mid-February and may impose yet more stringent contact rules as well as nighttime curfews and curbs on the number of people going to the office.
The IMF predicts the German economy will stagnate in the first quarter, before seeing growth for the rest of the year. For all of 2021, it predicts an increase in gross domestic product of 3.5%.
That would follow a contraction of 5% last year, according to initial estimates by Germany's Federal Statistics Office. Most forecasts -- including the IMF's -- indicate the economy will take until 2022 to recover the ground lost.
For Marcel Fratzscher, president of the German Institute for Economic Research, or DIW, any optimism is premature.
"We massively underestimate the economic risks of the second wave," he said. "Many companies are over-indebted and have exhausted their reserves."