German Economy Tries to Steady Itself After a Year of Shocks
(Bloomberg) -- Europe's largest economy offered mixed signals on Friday that suggest it's down but not out.
Confidence among businesses continued to weaken in February, after output stagnated in the fourth quarter as inventories slumped. But healthy increases in consumption and investment speak in favor of a pickup in the coming months once lingering issues related to car production wash out.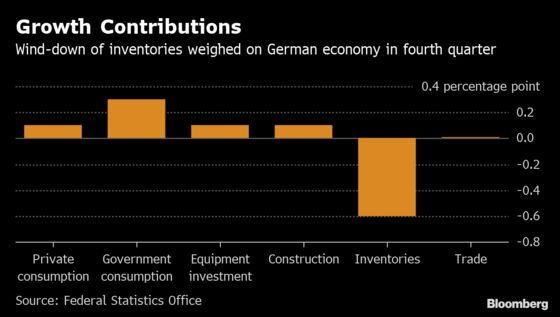 The latest numbers are perfect examples underlining the difficulties policy makers face in correctly assessing the country's economic health. They follow surveys on Thursday showing manufacturing weakness is persisting, overshadowing an improvement in services. Investor confidence hasn't yet seen a meaningful pickup and there have been sharp downgrades to the growth outlook.
Germany's Bundesbank has insisted there are "no signs that the slowdown is morphing into a downturn." Consensus forecasts support that, with growth of 0.4 percent seen this quarter and next.
What Our Economists Say...
"The free-fall in Germany's business surveys is coming to an end, even if the headline gauges did slip fractionally. That's a welcome sign the economy isn't at the start of a major downturn. Still, sentiment has clearly taken a knock and the outlook is for slow growth."

--Jamie Murray, Bloomberg Economics. Read more

At the European Central Bank, the view is more circumspect. Officials have noted the worsening outlook in the euro area amid risks from global trade disputes and the threat of a disorderly Brexit. They've raised the prospect of a policy response, though they haven't yet committed to action.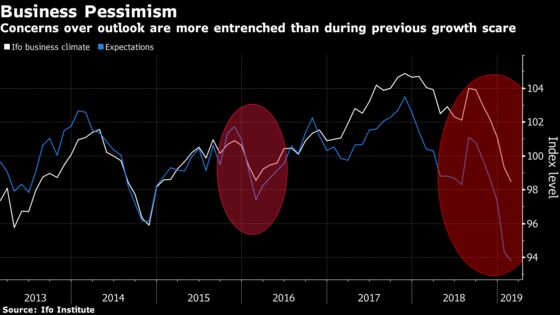 "I don't believe that we'll get this strong rebound in the first quarter that many thought will come" in Germany, Timo Wollmershaeuser, a senior economist at Ifo, told Bloomberg Radio. "It is a cooling down of the world economy."
Yet some hope remains that temporary factors weighing down sentiment and output in will eventually wane. Inventories knocked 0.6 percentage point off GDP in the fourth quarter, reflecting carmakers finally shifting stocks after disruption over the summer.
"Cars have sidetracked the entire economy -- however, in a couple of months, the German economy should be able again to show its true colors," said Carsten Brzeski, chief economist at ING Germany. "The German economy is in a better shape than its current reputation."