Swedish Inflation Shock Raises Questions About Riksbank Hike
(Bloomberg) -- Swedish inflation unexpectedly slowed in January, adding to speculation that the central bank may struggle to end four years of negative interest rates as planned this year.
Consumer prices with a constant interest rate rose an annual 2.0 percent in January, below the 2.3 percent median estimate by economists surveyed by Bloomberg and the 2.4 percent predicted by the central bank.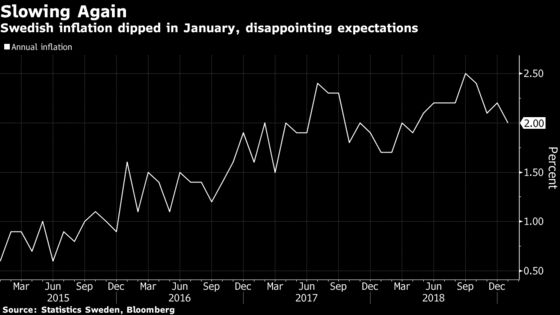 The Swedish central bank is counting on inflation remaining stable at around its 2 percent target as it seeks to lift rates after years of unprecedented stimulus. The bank raised the repo rate in December for the first time in more than seven years.
At its meeting last week, the Riksbank's board reaffirmed plans to deliver a second increase in rates during the second half of the year, despite the economy showing signs of weakening.
Several board members have said that inflation is now less of a concern after price growth and inflation expectations stabilized.
Economists note that January's inflation reading is traditionally volatile. Headline prices plunged 1 percent in the month.
Nordea economist Torbjorn Isaksson said the inflation reading was "a cold shower for the Riksbank, underlining that the next rate hike is distant."
Stefan Mellin at Danske Bank said the January figure lends support to "our view that the Riksbank won't hike rates this year." Although the Riksbank is less focused on tenths in inflation, "this was a rather big deviation," Mellin said adding that the focus would now be on upcoming labor market and GDP data.
Swedbank's Anna Breman emphasized the impact of "temporary factors" such as volatile flight prices on the January CPI data, but said that the numbers "still cast doubt on further rate hikes in 2019."

"As energy prices start declining, affecting inflation going forward, and as other central banks have said they will hold off, will the Riksbank follow the other central banks and back down now?" Breman said in a telephone interview.

SEB changed its forecast on the Riksbank on Tuesday and now predicts that the Riksbank won't raise rates again until in April 2020, compared to the earlier forecast of a hike in October 2019, according to economist Olle Holmgren.
The krona slumped to its weakest level since August, sliding 1.2 percent to 10.91 per euro as of 12:50 p.m.
For more details, see this table