Inflation Surprises in Europe's East Back Case for Rate Hikes
Calls for higher interest rates in eastern Europe are getting a boost from inflation.
While the European Central Bank is struggling to stoke price growth in the euro area, inflation quickened beyond economists' expectations in Poland, Romania and the Czech Republic last month. In the latter two countries, price growth is above the upper end of the respective central banks' target ranges.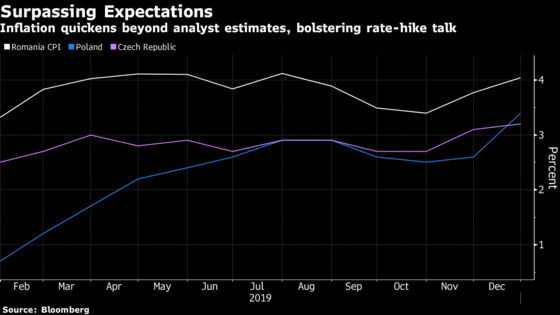 The Czechs may be the closest to tightening monetary policy. Central bank Deputy Governor Marek Mora said Monday evening that he "can imagine leaning toward raising interest rates" if signals of an economic recovery abroad persist.
But Poland -- despite producing the region's biggest inflation shock in December -- looks set to maintain its almost five-year lock on borrowing costs. Romania, meanwhile, remains wary that lifting rates will lure speculative foreign cash.