Inflation Stalking Russia Adds to 'Hopelessness' Among Consumers
(Bloomberg) -- The mood among Russian consumers is souring just as inflation increasingly eats into their purchasing power.
Faster price growth and an unsteady ruble are hurting household finances, contributing last quarter to the biggest plunge in consumer confidence since 2015. That mirrors a broader loss of momentum in the economy, which has been slow to rebound despite higher oil prices.
Buyers are starting to feel the pinch after three months of quickening price increases. Data on Wednesday showed annual gains in retail sales missed forecasts in September and real disposable incomes plunged the most in over a year, faring worse than every estimate compiled by Bloomberg.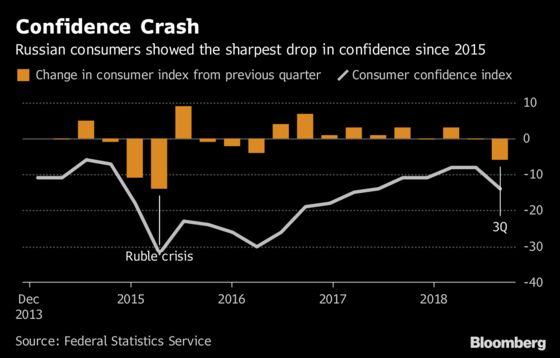 Fed up with the post-recession economic slog, people are succumbing to "long-term hopelessness," according to Mikhail Dmitriev, the economist who correctly predicted the largest protests of Vladimir Putin's rule in 2011 and 2012.
Citing a recent report he co-authored at the Committee of Civil Initiatives, a research group, Dmitriev said pessimism has taken hold especially after the government unveiled plans this summer to increase the retirement age. It was a letdown after the campaign before March presidential elections raised expectations that improvements were imminent.
| | | |
| --- | --- | --- |
| Annual performance | Sept. | Aug. |
| Retail sales | 2.2% | 2.8% |
| Real disposable income | -1.5% | -0.9% |
| Unemployment | 4.5% | 4.6% |
| Real wages | 7.2% | 6.8% |
"People will be more cautious in their consumption," said Dmitriev, a former economy minister. "From the demand side, there will be less impetus for reviving economic growth."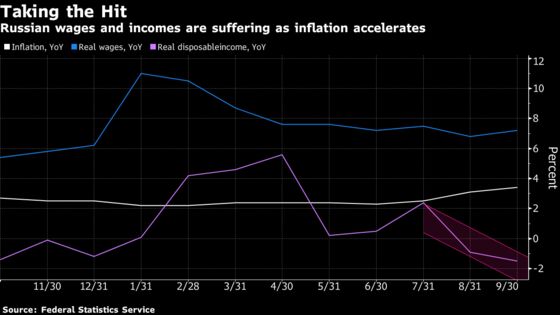 Inflation is likely to climb to as much as 4.2 percent by the end of the year and reach 6 percent in the first half of 2019 after the government increases the value-added tax from Jan. 1. The central bank, which unexpectedly raised interest rates for the first time since 2014 last month, believes tighter policy will help achieve "balanced growth in consumption" and keep savings attractive, according to a statement.
What Our Economists Say...

"The contraction in real incomes is worrying, with consumer confidence already showing signs of stress. More pain is on the way for households as inflation accelerates. The slowdown into 2019 could prove sharper than expected."

--Scott Johnson, economist, Bloomberg Economics
The frail health of the consumer is bad news for the economy, with growth already slipping to an annual 1 percent in August, the slowest this year. Gross domestic product will expand between 1.5 percent to 2 percent in 2018 and 1.2 percent to 1.7 percent next year, according to the Bank of Russia.
"On the back of accelerating inflation, real wages and especially incomes will start to sink," said Vladimir Miklashevsky, a strategist at Danske Bank A/S in Helsinki.