Inflation Miss May Not Be Enough to Sway Fed on Rates—Yet
(Bloomberg) -- Federal Reserve policy makers, already raising interest rates at a gradual pace, could come under pressure to go even more slowly should U.S. inflation keep moderating amid a stock-market rout.
Excluding volatile food and energy costs, the core consumer price index rose 2.2 percent from a year earlier, the same pace as in August and less than the 2.3 percent median estimate of economists surveyed by Bloomberg News, a Labor Department report showed Thursday. The broader CPI slowed to a 2.3 percent annual gain, the least since February and also below projections.
While the forecast miss stemmed partly from used-car prices dropping the most in 15 years -- a quirk that analysts said is likely temporary -- the figures indicate there's little danger inflation will drift far above the Fed's 2 percent goal. In addition, stock investors are tentative after a U.S. selloff on Wednesday that reverberated globally.
Such cautionary signs, if they multiply, will get harder to ignore as policy makers eye four more interest-rate hikes through the end of 2019.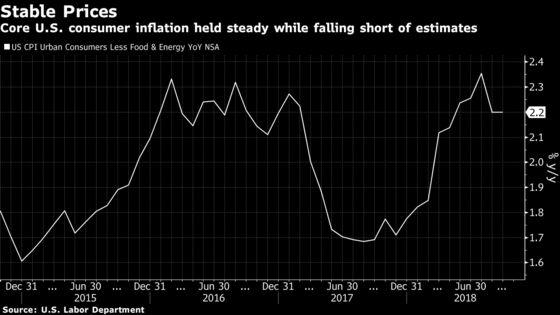 "The Fed would like to see inflation stay around 2 percent but in recent months it's been easing some," said Michael Moran, chief economist at Daiwa Capital Markets America in New York. "Right now the Fed is still planning on going ahead with raising rates. But if you see the stock market continuing to soften and if you see inflation numbers continuing to come in like this, those are things that could slow the pace of normalization."
Moran said doesn't plan to change his own call for a December hike based on this report.
The core CPI rose 0.1 percent in September from the prior month, compared with the median estimate of economists for a 0.2 percent gain. The broader index was also up 0.1 percent, below forecasts for a 0.2 percent increase. Prices for used car and trucks fell 3 percent.
While the dollar and 10-year Treasury yields initially fell after the report, and stocks were lower, a December interest-rate hike by the Fed is still the most likely scenario: The economy is strong, the labor market is tight and policy makers will get two more months of price figures before they meet.
Even so, Chairman Jerome Powell and other policy makers have stressed that they will be responsive to data in setting borrowing costs. Mortgage rates rose this week to a fresh seven-year high of 4.9 percent, which could further restrain already-cooling home sales.
What Our Economists Say
The downside miss in the September CPI and the failure of core CPI to accelerate on a year-on-year basis confirms our view that the Fed's 2 percent inflation target will not be sustained in the near term. The Fed will stick to a very gradual path of removing policy accommodation amid increasing financial and global risks.


-- Yelena Shulyatyeva and Carl Riccadonna, Bloomberg Economics


Read more for the full reaction note.
Meanwhile, President Donald Trump is escalating his attacks on the Fed, calling the central bank's recent rate increases a "mistake" and saying the agency was "going loco." He said Tuesday that there's no "problem of inflation" right now.
Benchmark Treasury yields have climbed to multi-year highs this month amid investor expectations that the Fed will continue raising rates to the point of eventually restricting growth, and Wednesday's rout in stocks has put added focus on economic data. A market-based gauge of the annual U.S. inflation rate for the next decade -- the 10-year breakeven rate -- remains near a four-month high of 2.17 percent reached last week.
The Fed's preferred gauge of inflation -- a separate consumption-based figure from the Commerce Department -- has been just above the central bank's 2 percent goal in recent months, and the figure tends to run slightly below the Labor Department's CPI. September numbers are due on Oct. 29.
"Despite the market's apparent concerns about an imminent acceleration in inflation, recent producer, consumer, and import price data all point to moderating inflationary pressures after an acceleration earlier this year," economists at Berenberg Capital Markets LLC said in a note. They expect a firming of the headline CPI number, and said "the Fed should continue to increase its policy rate gradually."
Besides the drop in used-car prices, costs for new vehicles fell 0.1 percent, the first decline since April.
Categories showing increases included shelter, which accounts for about one-third of the CPI and rose 0.2 percent from August, the smallest gain in three months. Owners-equivalent rent, one of the categories designed to track rental prices, increased 0.2 percent.
Apparel prices increased 0.9 percent, the biggest gain since February, after a 1.6 percent monthly drop in August that was the most in almost seven decades. Airfares rose 1 percent.
"It's a benign number," Constance Hunter, chief economist at KPMG LLP, said Thursday on Bloomberg Television of the CPI report. "The Fed has said they're going to do one more this year, more or less, and then three next year. I think that's completely on track."