Inflation Could Prove Difficult to Tame in Emerging Markets
(Bloomberg) -- Even as a number of central and east Europe's monetary authorities have embarked on tightening cycles, they're falling behind the curve, at least if real interest rates are anything to go by. That could weigh on the region's currencies as developed nations start normalizing policy.
Price increases in the Czech Republic and Romania accelerated more than economists' expectations in October, data showed Wednesday, plunging their real rates deeper into negative territory. And they're not the only ones in the region with below-zero real rates.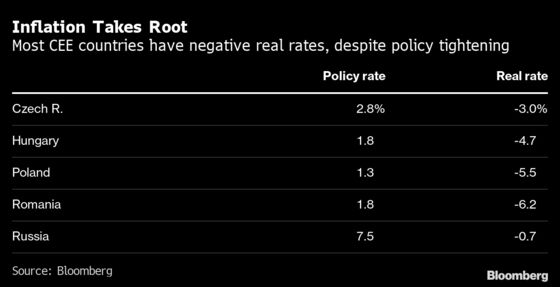 These negative real rates show central banks may have to be even more hawkish to make an impact on inflation. But normalizing won't be easy. Fiscal deficits are widening across the region, economies are bouncing back from the Covid hit, and wage pressures are rising amid tight labor markets. Elections in Hungary and later in Poland will make fiscal rectitude less appetizing. Add a flood of European Union recovery stimulus and you have a recipe for high and sustained inflation.
Some other emerging markets are also flashing danger signs. China's consumer and producer inflation exceeded analysts' expectations in October, while Brazil's inflation rate jumped the most in almost six years.
Investors have been focusing on inflation in developed markets, but they should guard against losing sight of not-so-transitory price pressures in emerging markets.
NOTE: This was a post on Bloomberg's Markets Live blog. The observations are those of the blogger and not intended as investment advice. For more markets analysis, run MLIV on the Bloomberg Terminal.