Inflation at 5% a Reality for Almost a Third of U.K. Spending
Inflation for almost a third of the things U.K. consumers usually buy is running at 5% or more a year, delivering another alarm about rising prices to the Bank of England.
From olive oil to cigars and cinema tickets, almost 30% of the shopping basket of goods and services used to calculate the cost of living was growing by more than 5% in October, according to analysis by Bloomberg. In September, just a fifth items were rising at that pace.
The findings indicate that the drivers of inflation go well beyond the cost of energy and that increasing prices are becoming more widespread. That will add to concerns about inflation at the central bank, which has warned it's preparing to tighten rates to maintain its 2% inflation target.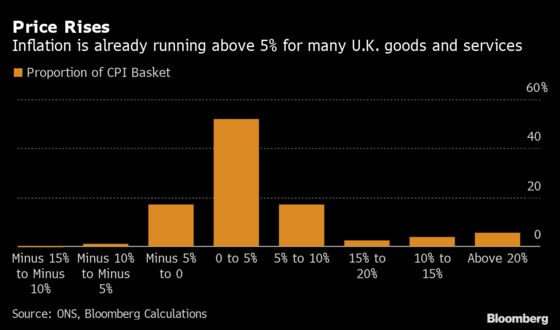 More worryingly, the hotspots are seen across the economy and not confined to high-profile areas. All 12 of the broader categories in the basket have at least one element where inflation is running above 5%, with restaurants and hotels and transport making up the biggest proportions.
Other items gaining streongly include food staples such as butter along with crisps, ice cream and fortified wine. Fridges, cookers and coffee machines have also seen big increases, along with toys, garden products, theatre and concert tickets.
The report from the Office for National Statistics showed the annual rate of inflation was at a decade-high of 4.2% in October, and the BOE expects the headline rate to hit 5% in the spring. That's prompted speculation officials will raise rates for the first time since the pandemic at their December meeting.