Indonesia Sees Consumption as Shield Against Chinese Slowdown
(Bloomberg) -- Indonesia will seek to sustain the growth in domestic consumption and boost government spending in a bid to shield itself from a spillover of slowing economic growth in China, according to Finance Minister Sri Mulyani Indrawati.
The success in maintaining people's purchasing power and consumption, which accounts for more than 55 percent of Indonesia's gross domestic product, will determine if the country can withstand weak external situation, Indrawati told reporters in Jakarta Tuesday. As China is likely to guard its domestic demand, Indonesia's goods and services exports will not be hurt by the slowdown in Asia's largest economy that will be caused by weak exports, she said.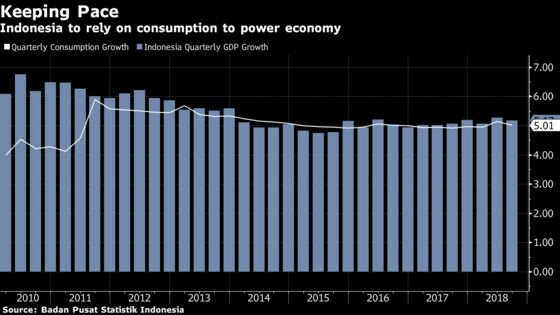 President Joko Widodo, who's bidding for a second term in an April election, is struggling to bolster economic growth as the trillion dollar economy is saddled with a record trade deficit and weakening commodity prices. While the rupiah has rebounded from a two-decade low last year, prospects of a wide current-account deficit for a second straight year continues to weighs on investors.
China is Indonesia's biggest trading partner, with two-way trade jumping 25 percent to $66 billion in the first 11 months of last year. China, which contributes about a third of global growth, has been weakening for years with the pace of expansion cooling to 6.6 percent last year, the slowest since 1990.
With a low budget deficit and a diversified financing, the government is expected to boost investment and exports, Indrawati said. Authorities will use all available instruments, including fiscal and monetary, to curb current-account deficit, she said.
The finance ministry foresees no difficulty in budget financing and is monitoring market situation to secure the safest and cheapest financing, Indrawati said. Bank Indonesia monitors the budget financing efforts and it will make sure market won't be drained of liquidity, she said.
Ministry set to issue regulation governing repatriation of forex earnings from exports of natural resources this week. Monitoring of forex flows from exports to help determine incentives to eligible exporters, Indrawati said.
The return of inflows into Indonesian assets since the fourth quarter of last year is sign of global confidence in Indonesian economy, Bank Indonesia Governor Perry Warjiyo said. The central bank will optimize its policy mix to ensure macro economic and financial system stability, he said.