Indonesia Says Clarity on Fed Hikes Was Key Bali Meeting Outcome
(Bloomberg) -- Bank Indonesia Governor Perry Warjiyo said clarity on the gradual pace of U.S. interest rate hikes was one of the key takeaways of this week's International Monetary Fund and World Bank meetings in Bali.
The signals on policy normalization from the U.S. Federal Reserve officials and other developed market central bankers were among the "positive" outcomes of the talks, and should hopefully ease pressure in financial markets, especially in emerging economies, Warjiyo said in an interview with Bloomberg TV's Haslinda Amin in Bali on Saturday.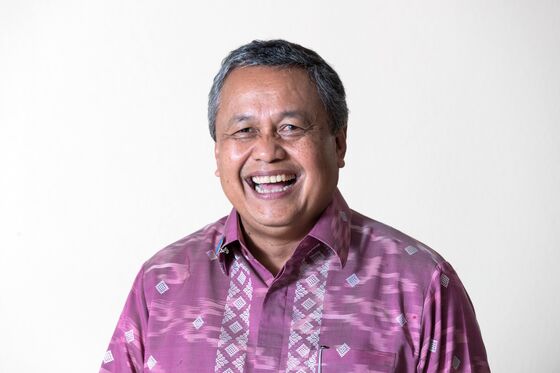 "We are seeing that the normalization process of monetary policy in advanced countries, especially from the U.S. Fed, will be gradual," he said. "And the Fed will also continue to communicate clearly the future course of the normalization process."
With trade tensions overshadowing talks in Bali this week, policy makers from emerging economies have been worrying about a prolonged rout in financial markets, triggered by U.S. rate hikes and a stronger dollar. Bank Indonesia has already raised borrowing costs five times since May to help stabilize the rupiah, which is down almost 11 percent against the U.S. currency this year.
Warjiyo said clarity from the Fed should help in "reducing the volatility of flows as well as volatility of the market and the exchange rate."
Indonesia has been one of the hardest hit economies in Asia in the global emerging-market sell-off, with twin deficits on the current account and budget, as well as a relatively high foreign ownership of its bonds, making the nation vulnerable to outflows.
Warjiyo said the rupiah is "undervalued" given the economy's fundamentals. The economy is expanding more than 5 percent, inflation is low and the fiscal deficit is below 2 percent of gross domestic product, he said.
"I do believe that what you are seeing in the rupiah development, I think it's already misaligned from the fundamentals," he said.
With the U.S. and China continuing a tit-for-tat battle on trade, and oil prices on the rise, Indonesia is calling for a multilateral response to protectionist headwinds as well as for global monetary policy to be better synchronized.
The IMF communique was "quite positive," Warjiyo said, with the global economy remaining quite strong. Referring to warnings by President Joko Widodo, who invoked the popular "Game of Thrones" TV show to refer to worsening global risks -- the governor said perhaps the "winter is not strong."
Indonesia is "quite resilient" and economic fundamentals are good, Warjiyo said. The central bank will continue to intervene in the foreign-exchange markets "when there is heavy pressure," he said, with the objective not to target a level for the currency "but to smooth out the adjustment."