Indonesia Is Flirting With the Wrong Foreign Money
(Bloomberg Opinion) -- President Joko Widodo could learn an important lesson from the Indonesian rupiah's slide this year: He's attracting the wrong kind of foreign money.
The rupiah is among the world's worst-performing currencies in 2018, down almost 9 percent, even though the country seems to be doing the right things. Bank Indonesia has raised benchmark interest rates by an aggressive 1.25 percentage points to counter the strong dollar, while in a show of fiscal discipline, the government recently shrank its deficit to 1.85 percent of GDP, from a previous estimate of 2.1 percent.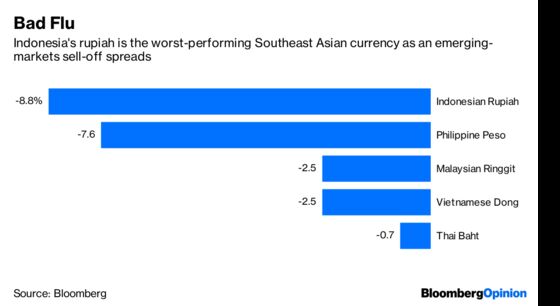 Jokowi, as the president is popularly known, may well feel he's getting a raw deal. Indonesia's current-account deficit has improved from the 2013 taper tantrum days, and the nation is out of the so-called Fragile Five emerging markets seen most at risk of a currency crisis, according to analysis by Bloomberg economists.
But the value of a currency is determined ultimately by a country's attractiveness as a destination for long-term investment. On that gauge, Indonesia has a terrible score.
In the second quarter, foreign direct investment into the country contracted 12.9 percent from a year earlier, the first decline since at least 2011, placing Indonesia last in a ranking of Southeast Asian neighbors relative to the size of their economies.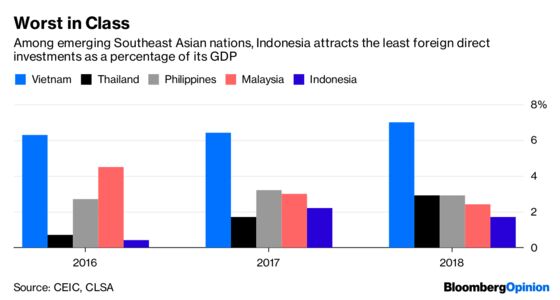 Part of this is down to Jokowi's show of independence from Beijing. Indonesia practically closed the door to the sort of Chinese investment that fueled Vietnam's manufacturing boom, and hardly participated in Xi Jinping's signature Belt and Road Initiative. The $5.9 billion, 142-kilometer (88-mile) Jakarta-Bandung high-speed rail connection is the only meaningful infrastructure project involving China.
To be sure, the president's caution is understandable. From Malaysia to Pakistan, governments along China's belt and road are now asking if they're getting a fair deal.
It's not as if Jokowi is self-reliant, however. His 4,800 trillion rupiah ($323 billion) infrastructure drive has to be financed somehow. According to the World Bank, Indonesia's logistics performance index is among the lowest in Asia.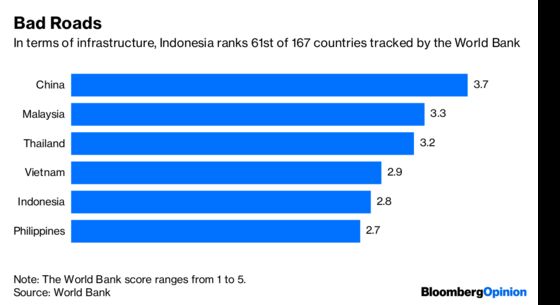 Since Jokowi took office in October 2014, the amount of local government bonds outstanding almost doubled to 2,274 trillion rupiah, and close to 40 percent of that was owned by foreigners. When emerging markets are in turmoil, global fund managers either sell their holdings or hedge their currency risk with forwards — both of which pressure the rupiah. In spurning more stable foreign direct investment, the country is flirting with hot portfolio money.
It may be too late to turn back. The window for China's overseas construction boom appears to be closing. In the second quarter, growth in the nation's outbound infrastructure construction revenue slowed to just 0.3 percent, from 5.8 percent last year. Recent debt crises among Beijing's old friends in Argentina, Venezuela and Pakistan may further sap Chinese money. 
In addition, China hasn't had a particularly good experience in Indonesia. The Jakarta-Bandung rail project, awarded in 2015, has barely started because of land ownership delays. Beijing isn't used to such sluggishness. 
As Indonesia approaches an April general election, the opposition has started attacking the government's debt binge. The real problem may be less the size of the debt and more the nature of the creditors. Jokowi chose backers who can head for the exits at any signs of greater distress. 
This column does not necessarily reflect the opinion of the editorial board or Bloomberg LP and its owners.
Shuli Ren is a Bloomberg Opinion columnist covering Asian markets. She previously wrote on markets for Barron's, following a career as an investment banker, and is a CFA charterholder.