Drop Extends for India's Sensex on Election Outcome Uncertainty
(Bloomberg) -- Indian equities fell, with the benchmark gauge dropping a fourth day, as investors continued to assess company earnings that end later this week and the uncertainty around the outcome of national elections in May.
The benchmark S&P BSE Sensex fell 0.7 percent to 36,153.62 at the 3:30 p.m. close in Mumbai, extending its decline to more than 2 percent in four days. The NSE Nifty 50 Index dropped 0.5 percent to 10,831.40.
Investors are bracing for volatile markets as Prime Minister Narendra Modi faces a tough re-election bid in May, with prospects of a majority expected to fade. Bets on borrowing rates falling further, slower inflation, and a faster pace of growth in company profits and the economy are countering negative sentiment.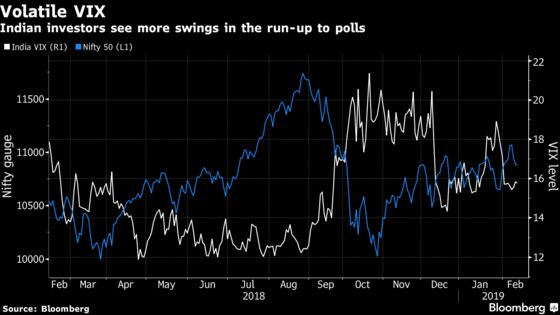 "We think that 2019 will be a tale of two halves, wherein first half is likely to be extremely volatile and second half a strong recovery based on earnings growth," said Vaibhav Sanghavi, co-chief executive officer at Mumbai-based Avendus Capital PBC Markets Alternate Strategies LLP.
"While the longer-term view is positive, it is likely to be turbulent in the short-term because of global and local reasons such as elections," he said.
"We think that interest rates are heading south and currency should be relatively stable compared with the previous year," Sanghavi said.
Remains bullish on private banks, consumer firms and industrial equipment producers, cautious on non-bank lenders.
Twenty-eight of the 50 Nifty shares and 23 of the 31 Sensex stocks retreated.
Of the 48 Nifty companies that have reported earnings so far, 33 have either beaten or matched analyst estimates, according to data compiled by Bloomberg. State monopoly Coal India Ltd. will report earnings for October to December later today.
Fifteen of the 19 sector indexes compiled by BSE Ltd. dropped, led by a gauge of telecom stocks, after a report that India will investigate the phone companies for alleged understating of revenues.
Hero MotoCorp Ltd. fell 3.1 percent, the steepest among Sensex members. Shares pared gains in February to 9 percent on Tuesday. The two-wheeler maker had reported third quarter revenue that topped estimates on January 31.
Gujarat Narmada Valley Fertilizers & Chemicals Ltd. plunged 11 percent, most since November 2016, after its net income and revenue dropped versus a year ago. PI Industries Ltd. climbed 5.6 percent after its profit and sales topped estimates.
Analyst Notes/Market-related Stories
India Earnings Growth to Drive 'Pricey' Stocks Higher: CS
India Plans Circuit Filters for Derivative Stocks to Curb Swings
What India's Top Three Mutual Funds Bought and Sold in January
INR Outperforms Asian Peers on Axis, Vodafone Inflows: Edelweiss