Bonds Gain in India as Central Bank Signals More Debt Purchases
(Bloomberg) -- Sovereign bonds rallied in India, with 10-year yields falling to the lowest since April, after the central bank said that it may need to extend its open-market debt purchases until March.
The Reserve Bank of India's commitment for buying more debt is a "delight for markets," Vivek Rajpal, rates strategist at Nomura Holdings Inc., said after the authority kept interest rates unchanged for a second straight meeting.
The debt-buying support has helped local bonds have emerge from a yearlong rout that sent benchmark yields to a four-high year in September. The central bank Tuesday said it would buy 400 billion rupees ($5.7 billion) of bonds this month after having spent 860 billion rupees in October and November, tracking support measures put in place by policymakers in other emerging markets to steady their assets after this year's selloff.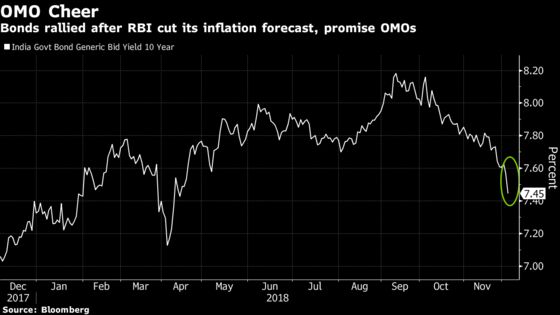 The RBI kept the repurchase rate unchanged at 6.5 percent as inflation and economic growth slowed, a decision predicted by 48 of 52 economists surveyed by Bloomberg. It cut inflation forecast for the second half of the fiscal to a 2.7 percent-3.2 percent band from a range of 3.9 percent to 4.5 percent. That is below the bank's medium-term target of 4 percent.
"The most important change in today's policy is lowering inflation projection, which means a long pause on rates," said Naveen Singh, head of fixed-income trading at ICICI Securities Primary Dealership Ltd. in Mumbai. Ten-year yields should stay in a 7.25 percent-7.5 percent range as "global conditions have turned in favor of bonds," he said.
A cut in inflation forecast and Governor Urjit Patel's comment that the rate-setting panel might take "commensurate action" if the risks to inflation don't materialize, also added to market cheer.
"That suggests room for a rate cut could open up," said Abhishek Gupta, an economist with Bloomberg Economics in Mumbai. A "strong possibility" that inflation will breach the lower end of its 2 to 6 percent target range in December," which could prompt the RBI to cut rates in February, he said.
Local bonds of emerging economies are headed for their worst year since 2015, although they have clawed back some of their losses since mid-September as developing currencies stabilized and on signs the Federal Reserve may slow its rate hikes next year. Benchmark yields in India slid 25 basis points last month and the rupee capped its best month in almost seven years.
On Wednesday, the 10-year yield slid 13 basis points to 7.44 percent at the close in Mumbai. The rupee rose 0.1 percent to 70.4650 per dollar.