Stocks, Rupee Pare Declines as Investors Weigh Impact of Attacks
(Bloomberg) -- Indian stocks and the rupee bounced off the day's lows as investors assessed the impact of the rising tensions between India and Pakistan against the backdrop of falling oil prices and buoyant emerging markets.
The S&P BSE Sensex tumbled as much as 1.4 percent and the rupee lost 0.5 percent in reaction to an air strike on a terrorist camp by Indian jets inside Pakistan. The drop in stocks took the sheen off Monday's jump that had erased the market's year-to-date loss. The Sensex ended the day to lose 0.7 percent and the rupee was trading 0.1 percent lower.
"The reason why you are not seeing such a negative sentiment in India is simply because rest of the emerging markets are doing fairly well, oil is lower and yields are lower," said Ashish Vaidya, head of trading at DBS Bank Ltd. in Mumbai. "That's providing support to the rupee."
The outlook for emerging-market stocks has improved, thanks to growing optimism that the U.S. and China will resolve their trade dispute and the dollar could weaken as the Federal Reserve pauses its rate hiking program. Prices of oil -- India's top import -- extended losses Tuesday after tumbling the most in four weeks after Donald Trump's criticism that prices are too high.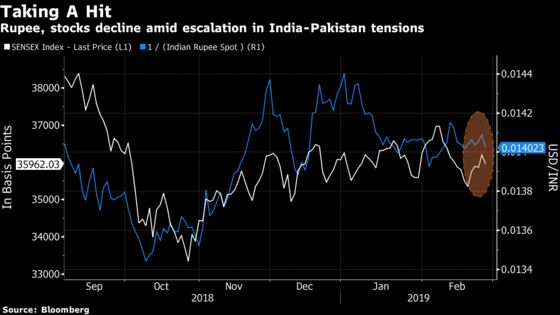 Foreign Secretary Vijay Gokhale said in New Delhi today that India carried out strikes in Pakistan following an attack in Kashmir this month in response to intelligence that indicated Jaish-e-Mohammed was planning more. The biggest Jaish-e-Mohammed training camp in Balakot was destroyed, Gokhale said. Over 300 terrorists were killed in the air strike, an unnamed Indian official said.
His statement has been "carefully worded to convey that the target was only the terror camps and there haven't been any civilian casualty," said A. K. Prabhakar, head of research at IDBI Capital Market Services Ltd. "Stocks may stay volatile for a couple of days as investors watch on how the other side responds to this action."
Tuesday's strikes won't materially impact markets, State Bank of India's chief economic adviser Soumya Kanti Ghosh wrote in a note, citing previous conflicts of Kargil in 1999 and Uri in 2016. "These strikes act as a positive deterrent for the markets for the decisiveness in India's foreign policy," he said.
The rupee is Asia's worst performing currency this year ahead of general elections due by May where Prime Minister Narendra Modi faces a tough fight from opposition parties. The yield on the most-traded 2028 bonds was up one basis point to 7.59 percent, while spreads on State Bank of India's 2024 dollar bonds widened five basis points.
Some analysts said that strikes may boost equities as it will aid Modi's electoral prospects.
"The positive perception to the Modi regime will aid valuations, even as they look expensive," said Chokkalingam G, managing director at Mumbai-based Equinomics Research & Advisory Pvt.
Here are more voices from strategists:
DBS (Radhika Rao, economist)
Drop in India's rupee is a "knee-jerk reaction" to the border tensions
The extent of weakness will depend on the Indian government's rhetoric; tensions add to worries over the elections that must be held by May
DBS forecasts USD/INR will rise to 73-74 in the next two quarters due to the election uncertainty and broad dollar strength
Westpac (Frances Cheung, head of Asia macro strategy)
The rupee has not been moving along with the broad risk sentiment, but instead affected by idiosyncratic factors. Domestic elections and geopolitics could be a weigh in the near term, counteracting the soft oil prices
Mizuho Bank (Vishnu Varathan, head of economics and strategy)
While increasingly tense relationship with Pakistan may start to drag the rupee, it isn't an overwhelming factor just yet
How wider India-Pakistan tensions evolve, specifically with regards to whether Pakistan responds militarily, will determine what a more durable rupee response will look like.
Target Investing (Sameer Kalra, founder)
See any downside as opportunity to buy stocks
Don't expect hard response from Pakistan. If Pakistan responds to this attack then they are trying to defend camps , which was was India Air force target and when global eyes are watching they wouldn't do that
This might also create higher odds of present government continuity which is positive