Trump's Saber-Rattling Isn't Enough to Dent Emerging Markets
(Bloomberg) -- The Indian and Turkish currencies barely skipped a beat after Donald Trump announced that he would end the countries' trade-preference status with the U.S., with the rupee posting the biggest gain of any emerging-market currency so far this week.
The rupee appreciated 0.3 percent against the dollar to 70.29, after strengthening 0.6 percent on Tuesday, and the benchmark S&P BSE Sensex stock index rallied for a third day to a one-month high. Turkish stocks also proved resilient, trading down slightly amid a mixed day for developing-world assets.
Investors have piled into emerging markets this year as the Federal Reserve's more cautious approach to rate hikes boosts their appetite for risk and as the U.S. and China near a trade deal. While those negotiations helped drag implied volatility for emerging-market currencies to the lowest since April, strategists at Rabobank including Richard McGuire and Lyn Graham-Taylor say they may also have triggered the latest comments from Trump.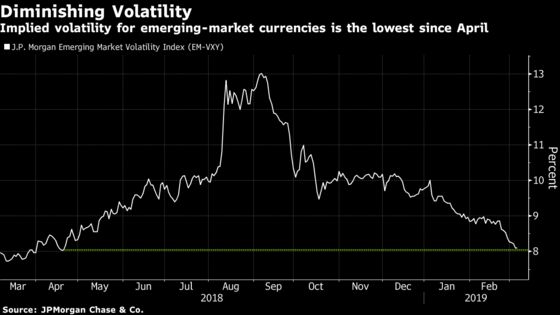 It could be "a tough stance ahead of a trade agreement with China that is at risk of being seen as too generous or that your author is prone to over-analyzing," the Rabobank strategists said in their daily note. "The broadly unchanged USD-TRY cross and the modestly firmer rupee argues that the latter scenario is the most likely."
Trump told Congress on Monday of his "intent to terminate" trade benefits for both countries under the generalized system of preferences. The notification starts a 60-day countdown before the president can take the action on his own authority, the U.S. Trade Representative's Office said in a statement.
Traders shouldn't completely ignore the risks to Turkey and India, according to Morgan Stanley. Even if the amount of trade affected is small -- India's commerce secretary said the country benefited to the tune of $190 million annually from the scrapped duties -- it may add to nervousness, especially if it causes a more nationalist turn from Prime Minister Narendra Modi. The lira on Wednesday fell as much as 1 percent after the central bank held its main interest rate.
"With India heading into an election, the political need for the Indian government to respond to U.S. trade pressure may be more acute than at previous periods," analysts at Morgan Stanley, including James Lord, said in a note. "We see this headline worsening the overall Indian trade deficit marginally and adding further conviction to our long USD-INR position."