India Stocks Swing as Investors Digest Border Clashes, Infections
(Bloomberg) -- India stocks closed down in a volatile session as investors weighed the consequences of a border conflict with China's military while coronavirus infections continued to rise as the South Asian nation reopens.
The S&P BSE Sensex index slipped 0.3% to 33,507.92 in Mumbai, after swinging between gains and losses. The NSE Nifty 50 Index also declined by a similar magnitude.
Clashes on a contested Himalayan border killed troops on each side Tuesday after a weeks-long standoff in an escalation of a decades-long dispute. Meanwhile, Covid-19 infections continued to rise as India reopens for business after a prolonged lockdown failed to curb the spread of the disease.
Prime Minister Narendra Modi has vowed India will defend its sovereignty in his first public statement since the deadly clashes along the contested border with China.
"Border tensions will affect sentiment because things may turn bad or good and investors won't want to commit in such uncertainty," said Umesh Mehta, head of research at Samco Securities Ltd. in Mumbai. "Investors are still not optimistic because of the fear of a second-wave of infections, and concerns about how small businesses will survive."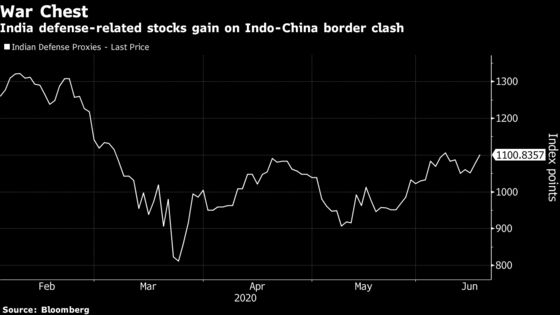 The yield on the most traded 6.45% 2029 bond fell two basis points to 6.01%, while the rupee appreciated at 76.1650 per U.S. dollar.
Eight of 19 sector sub-indexes compiled by BSE Ltd. fell, led by a gauge of power companies.
Housing Development Finance Corp Ltd. contributed the most to the Sensex decline, decreasing 1.6% while Kotak Mahindra Bank Ltd. had the largest drop, falling 2.8%
Bharti Airtel Ltd. provided the biggest boost to the index, advancing 3.4% while Maruti Suzuki India Ltd. had the biggest gain, rising 4.1%