India Sensex Fluctuates as RBI Delivers a Surprise Rate Cut
(Bloomberg) -- India's benchmark equity index was whipsawed Thursday after the central bank unexpectedly cut its key policy rate and dropped its hawkish stance, briefly firing up stocks.
The S&P BSE Sensex swung between a 0.5 percent gain and a drop of 0.2 percent soon after the decision, before closing little changed at 36.971.09 in Mumbai. Automobile makers helped drive gains as the rate cut is likely to help revive demand for vehicle loans. Breaking ranks, the mid and small-cap indexes cheered the decision, rising at least 0.7 percent.
While stocks typically gain on a rate-cut, analysts say expectations were already built in, which go some way in explaining the two-way movement in the benchmark gauge. The Sensex and the NSE Nifty 50 indexes have gained about 5 percent each since Shaktikanta Das was named the new governor of the central bank. A gauge of banking stocks has also risen 5 percent in the same period.
"Even as borrowing costs may go down a bit, concern on India's fiscal deficit still remains an overhang on sentiment," said Viral Berawala, chief investment officer at Essel Finance Asset Management Ltd. "The positive seems to be for the short term."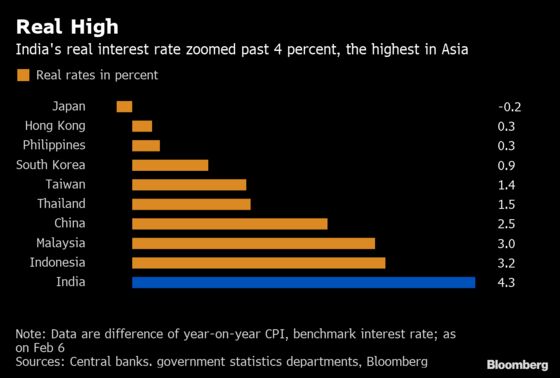 This is what strategists and market watchers had to say after the policy decision.
"Markets were already factoring (the rate cut), so not much of an excitement to be seen. But this is a good time for lowering rates as the focus is on increasing private investments," said Sushant Kumar, fund manager for equity at Raay Global Investments Pvt.
"It is a positive step as this will help lower the borrowing cost. We expect banking and auto stocks to react positively to this development," said A. K. Prabhakar, head of research at IDBI Capital Market Services Ltd.
"Market had run up a lot prior to the event and many investors used the rally to book profits," said Dharmesh Kant, head of research at Indianivesh Securities Ltd. "Rate cut of 25 basis points is an act of fine balance between maintaining real income and boosting economic growth."
"The RBI decision addresses two immediate challenges. One, it is making liquidity available at a cheaper cost, especially to banks who are focused on higher loan growth via retails loans and asset purchase from non-bank finance companies," said Sameer Kalra, president at Target Investing. "The neutral stance with lower inflation for 2H of calendar year 2019 increases scope of a rate cut in the April meeting as well. The sectors to benefit are state-run and private banks."
"The combination of reflationary budget last week along with monetary easing by the RBI will provide further boost to consumption demand," said Dhananjay Sinha, head of research at Emkay Global Financial Services Ltd. "The implication for inflation is somewhat on the higher side and RBI may have taken a benign view in this respect.
Thirteen of 19 industry sub-indexes compiled by BSE Ltd. advanced as a gauge of telecom and auto companies paced gains.
Maruti Suzuki India Ltd. and Bajaj Auto Ltd. gave the biggest boosts to the benchmark index.
Sun Pharmaceutical Industries Ltd. was the best performer on Sensex.
AstraZeneca Pharma India Ltd. climbed 11.6 percent after earnings.