Indian Stocks at Record High as Low Rates Aid Risk-Taking
(Bloomberg) -- India's main stock indexes closed at a record high as investors bet that Asia's third-largest economy will keep the stimulus taps flowing to recover from a deadly wave of the coronavirus.
The NSE Nifty 50 breached the 16,000-mark for the first time and the 30-stock S&P BSE Sensex also closed at an all-time high. The latter is the 12th-highest gainer among almost 100 global indexes tracked by Bloomberg over the past year.
The run-up in stocks comes before the central bank's monetary policy decision Friday, where interest rates are expected to be left at an all-time low even as inflation accelerates. The upswing factors in expectations of future growth as central banks around the world take steps to protect their economies, Indian Finance Minister Nirmala Sitharaman told parliament on Tuesday.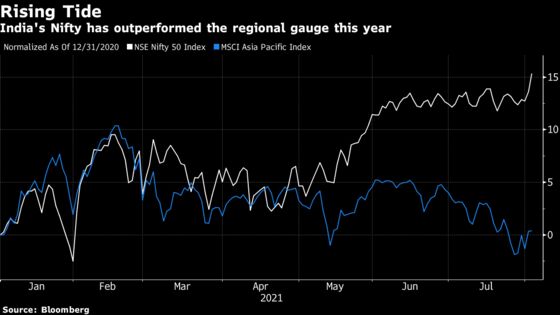 "We are seeing a lot of indicators of economic recovery," said Vinay Khattar, head of research at Edelweiss Wealth Management Ltd. "We are advising clients to stay invested in equities and if there is any decline, it should be used as an opportunity to buy."
NSE Nifty 50 Index gained 1.6% to close at 16,130.75 in Mumbai on Tuesday, while the S&P BSE Sensex rose 1.7% to 53,823.36.
India has seen a surge in first-time investors, willing to buy riskier assets as returns from bank deposits and traditional savings avenues dip. The number of retail investor account surged nearly 35% in the financial year ended March to reach 55 million, according to the Securities and Exchange Board of India, a trend similar to what is being seen in developed markets like the U.S.
Domestic institutional investors such as mutual funds and insurance firms bought about $2.5 billion of Indian stocks in July, according to data compiled by Bloomberg. That offset a net sale of $1.7 billion by foreign funds, the biggest outflow since March 2020 when the nation went into one of the strictest lockdowns to curb the spread of the virus.
Last year's lockdown dragged India's economy into a historic contraction, and business was just about recovering when a deadlier virus wave hit in April. The central bank's easy policy stance, which is in contrast to many other emerging-markets, has ensured ample liquidity supporting the financial markets even as demand was hurt in the real economy.
The pain is visible in tepid earnings for companies. Of the 31 Nifty companies that have reported results so far, 20 or 63% have missed analyst estimates. In its annual report in May, the Reserve Bank of India warned of an asset-price bubble.
"There may be a rise in the earnings going forward but no one knows how much they would increase," said Deepak Jasani, head of retail research at HDFC Securities Ltd. "Investors need to keep taking profits and not go overweight on equities."