Yes Bank Slumps 30 Percent After Surprise Loss
(Bloomberg) -- Shares of Yes Bank Ltd. slumped 29 percent on Tuesday, its biggest decline on record after the lender headed by newly appointed Chief Executive Officer Ravneet Gill reported a surprise quarterly loss.
Late Friday, Yes Bank said it incurred a net loss of 15.07 billion rupees ($216 million) for the quarter ended March 31, after setting aside a record 36.6 billion rupees for loan losses and other provisioning. The loss surprised all analysts polled by Bloomberg, where the average estimate was for a profit of 10.2 billion rupees.
"New management under the leadership of Ravneet Gill has embarked into a full blown kitchen-sinking exercise," analysts led by Hatim Broachwala at IDBI Capital Ltd. wrote in a note. Several analysts downgraded the shares after news of the loss, citing the danger of more provisions in future, and weaker loan growth.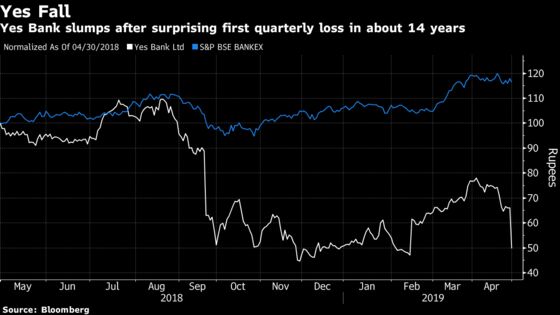 The pace of year-on-year lending growth at Yes Bank fell to just under 19 percent in the latest quarter, from close to 54 percent a year earlier. Tuesday's share price slump may also interfere with the bank's plan to raise new capital to revive lending, according to Ajay Bodke, the chief executive officer of the stockbroking and research firm Prabhudas Lilladher Pvt.
In April, Yes Bank's board approved plans to raise as much as $1 billion through a share sale to bolster capital ratios.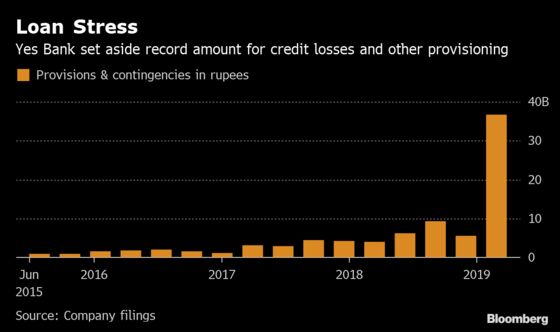 Tuesday's drop exceeded Yes Bank's performance on Sept. 21, when the shares plunged soon after news that the Reserve Bank of India was forcing co-founder and previous CEO Rana Kapoor to step down. Though the RBI didn't give a reason for refusing to extend Kapoor's term, Yes Bank was one of the lenders targeted by the regulator in its campaign to improve disclosure standards for problem assets.
The 10-member S&P BSE Bankex Index fell 1.2 percent on Tuesday, with IndusInd Bank Ltd., Bank of Baroda and Federal Bank Ltd. also contributing to the decline.