India's World-Beating Growth Cools as Cash Crunch Hurts
(Bloomberg) -- India's growth slowed last quarter, boosting a view that the central bank will keep interest rates unchanged next week.
After breaking through the eight percent mark in the quarter through June, growth eased to 7.1 percent in the three months through September. That compared with a median forecast of 7.5 percent in a Bloomberg survey of economists, as back-to-back rate hikes in June and August by the Reserve Bank of India, a funding squeeze and weaker terms of trade put a brake on the world's fastest-expanding economy.
The subdued growth report -- along with inflation at 13-month lows -- give the central bank enough reason to stay sidelined next week, as most economists expect. The RBI kept its benchmark rate unchanged at 6.5 percent in October as it lowered its growth projection for the first quarter of the 2020 fiscal year to 7.4 percent.
"The numbers are a disappointment and it is well below consensus," said Hugo Erken, senior economist at Rabobank International. "This also means status quo on interest rates when the RBI meets next week."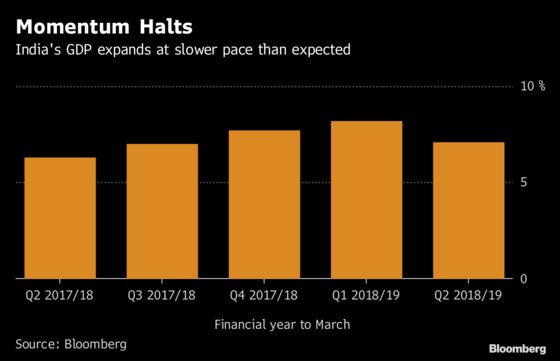 Gross value added -- a key input of GDP that strips out taxes -- rose 6.9 percent in the July-September quarter from a year ago, compared with the median estimate of 7.3 percent
Agriculture expanded 3.8 percent from a year ago; manufacturing grew 7.4 percent
Like elsewhere in Asia, growth in India is coming off the boil as global demand wanes and trade tensions mount. While the 7 percent-plus expansion still makes India a growth star, the more subdued outlook brings uncertainty to fiscal and monetary policy.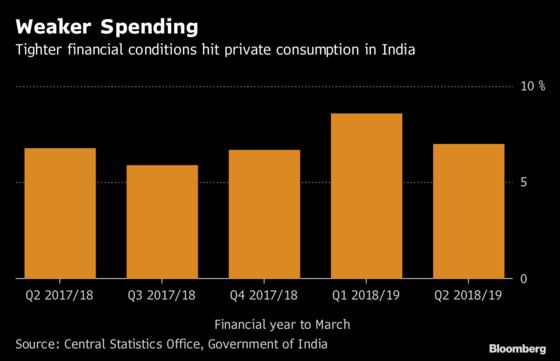 Budget goals may come under pressure if slower growth prompts Prime Minister Narendra Modi's administration to boost spending before elections next year. It may also increase tension between the Reserve Bank of India and the government, which is trying to get Governor Urjit Patel and his team to do more to ease the credit crunch.
"Based on the September quarter GDP growth and likelihood of lower growth in the second half of the year, chances of fiscal slippage are very high," said Devendra Kumar Pant, Chief Economist with India Ratings & Research, the local unit of Fitch. "The central bank is expected to stay on hold next week," he added.
A slew of high-frequency data between July and September, as well as Bloomberg News' indicator of animal spirits, already pointed to subdued demand in the quarter. Growth in industrial production eased in each of the three months amid a surge in fuel costs, while automobile sales were subdued in the period.
Sectors like retail and real estate have been hit after debt defaults by a troubled financier forced many shadow banks to curtail lending when their own borrowing costs surged.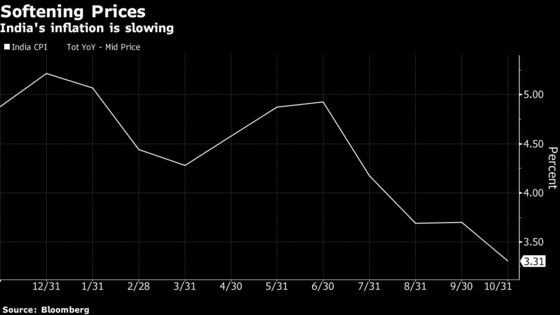 With inflation subdued and growth softening, the output gap -- the difference between actual and potential growth -- is likely to widen and keep the central bank on hold in the coming months, economists said.
What Our Economists Say....
Inflation has already slowed sharply and the recent tumble in oil prices points to a further downtrend. The added dis-inflationary force from a widening output gap is likely to act as the final straw for a change in RBI's policy stance. We expect the central bank to hold rates at its Dec. 5 review and revert back to neutral from its stance of calibrated tightening.
 -- Abhishek Gupta, Bloomberg Economics