India's Trade Deficit Widens in April as Oil Prices Surge
(Bloomberg) -- India's trade deficit widened to a five-month high as rising crude prices raised the cost of imports.
The gap between exports and imports was $15.3 billion in April, compared with $10.9 billion in March and $13.7 billion a year ago, data released by the commerce ministry showed Wednesday. The deficit is wider than the $13.5 billion median estimate in a Bloomberg survey of 21 economists.
Exports rose 0.6% from a year ago to $26.1 billion, compared with a 11% gain in March
Imports rose 4.5% to $41.4 billion, against a 1.4% increase in the previous month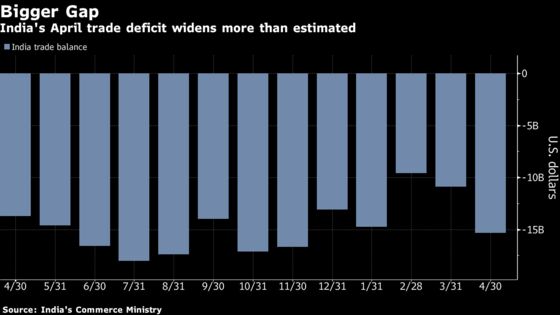 While exports growth remained tepid amid a slowing global economy and renewed U.S.-China trade tensions, a sustained spike in prices of oil, India's biggest import, risks worsening the nation's current-account deficit, which was at 2.5% of gross domestic product in the quarter to December
India imports nearly 80% of its oil needs and the International Energy Agency expects the South Asian nation's energy demand to more than double by 2040, making it the single largest source of global growth
The price of Indian basket of crude climbed to $70.69 a barrel as of Tuesday from $66.53 at the end of March
Even so, slowing domestic economic activity may temper demand for oil products. A more than 30% surge in oil prices so far this year is seen likely to crimp fuel consumption and further damp consumer spending in Asia's third-largest economy
Oil imports rose 9.3% from a year earlier to $11.4 billion in April
To read the full statement, click here