India's Trade Balance Returns to Deficit After Rare Surplus
(Bloomberg) -- India's trade balance went back into deficit in July as inbound shipments picked up slightly from the previous month as the economy gradually reopened.
Exports fell 10.2% from a year earlier and the drop in imports eased to 28.4%, leaving a trade deficit of $4.83 billion, according to data from the Commerce Ministry Friday. That compares with the median estimate of a $1.9 billion deficit in a Bloomberg survey of 19 economists.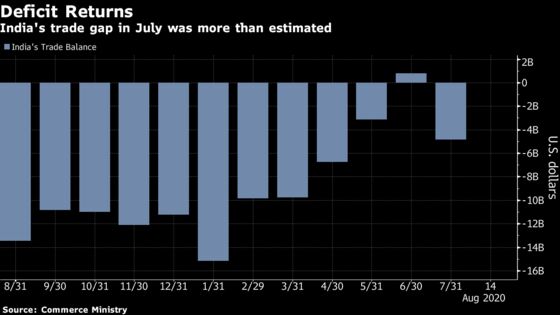 The decline in imports was smaller than the previous month's 48%. Exports suffered due to lower shipments of petroleum products and gems and jewelry
India reported its first trade surplus in 18 years in June as imports collapsed after the pandemic hampered economic activity in the country. Contracting imports also helped the government post a rare current-account surplus in the January-March quarter
Prime Minister Narendra Modi has been trying to narrow the country's trade gap by boosting exports. However global demand has been hammered as the virus spreads around the world
Gold imports rose 4.2% from a year ago, while oil shipments were down 32%