India Trade Balance Posts Unexpected Surplus After 18 Years
(Bloomberg) -- India's trade balance returned to a surplus in June after 18 years, as a decline in imports was sharper than exports.
Exports contracted 12.4% from a year earlier, while imports declined 47.6%, leaving a trade surplus of $790 million, according to data released by the Commerce Ministry Wednesday. The balance was last in surplus in March 2002.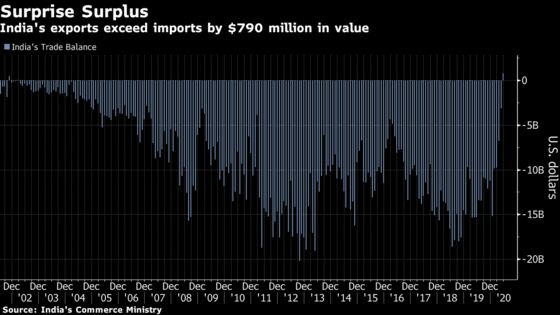 The median estimate in a Bloomberg survey of economists was for a deficit of $4 billion
Twelve of the country's top 30 export items showed growth in June, compared with only four in May, as a reopening of economies around the world stoked demand for goods
The decline in imports were led by gold, which dropped 77.4% in June to $608.7 million
Shrinking imports already helped India post a rare current-account surplus in the January-March quarter helped by a lower trade deficit then. That's a small consolation for an economy headed for its first contraction in more than four decades amid the Covid-19 pandemic
A new wave of coronavirus infections in economies around the world is a risk, and could leave little room for demand recovery
For the full statement on foreign trade, click here