India's Services Index Surges to 21-Month High on Strong Demand
(Bloomberg) -- India's main services index rose at the fastest pace in 21 months in July as improving demand in the country's dominant sector underpinned growth in the world's fastest-expanding major economy.
The seasonally adjusted Nikkei India Services Index rose to 54.2 in July from 52.6 in June, suggesting a strong start to the economy in the second quarter of the financial year that began in April. A reading above 50 means expansion while anything below that signals contraction.
The pick-up in activity was accompanied by a rise in inflationary pressures, the survey showed, giving policy makers more reason to remain vigilant about prices in coming months. The inflation-targeting Reserve Bank of India raised its repurchase rate by 25 basis points to 6.5 percent this week to curb inflation and stem capital outflows that have been driving down the rupee.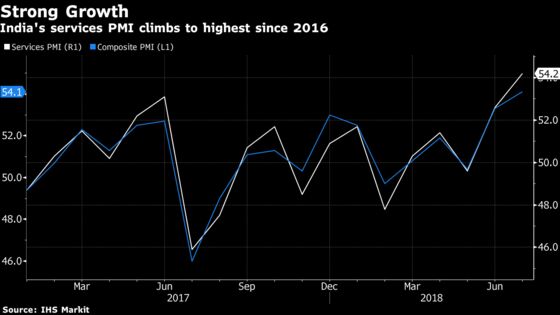 "Although overall input cost inflation softened from June's near four-year high, service companies faced the fastest rise in input costs since March amid reports of high oil prices," said Aashna Dodhia, an economist at IHS Markit. "An uncertain global climate, currency weakness and strong inflation may continue to place pressure on the central bank to hike interest rates over the coming months."
The gain in the services index pushed up the seasonally adjusted Nikkei India Composite Index to 54.1 in July, the highest level since October 2016, from 53.3 in June. On Wednesday, a similar survey showed the manufacturing sector grew in July, albeit at a slower pace.
Subhash Chandra Garg, a top economic bureaucrat in India, said on Twitter the data was "indicative of excellent expansion in business activity and optimism in India."