India Sensex Falls the Most in Eight Months Before Rate Decision
(Bloomberg) -- India's benchmark equity index fell the most in eight months as surging oil prices added to the rupee's weakness, prompting foreign investors to sell a day ahead of an expected increase in interest rates by the central bank.
The S&P BSE Sensex declined 2.2 percent to 35,169.16 in Mumbai, with Reliance Industries Ltd. and HDFC Bank Ltd. the biggest drags. All 19 sector sub-indexes compiled by BSE Ltd. retreated, with a measure of energy companies dropping the most. The benchmark gauge earlier fell as much as 2.7 percent. ICICI Bank Ltd. climbed the most in nearly two months after its chief executive officer Chanda Kochhar stepped down amid an ongoing probe into alleged impropriety.
The S&P BSE Energy index fell the most since August 2015 led by oil refiners after the government cut excise duty by 1.5 rupees a liter and asked state-run oil marketing companies to absorb another 1 rupee/liter on the sale of diesel and gasoline. Each of the three state-run refiners - Hindustan Petroleum Corp Ltd., Indian Oil Corp Ltd. and Bharat Petroleum Corp Ltd. - dropped intraday by at least 20 percent.
"The sense is that the crude oil price will head to $90 a barrel and in that environment, perhaps the RBI will be forced to raise rates," Aneesh Srivastava, chief investment officer at IDBI Federal Life Insurance Co., said by phone, adding that he's increased cash while reducing equity holdings. "Valuations are not attractive to buy in such a negative macro environment. Valuations need to be cheaper."
The Reserve Bank of India's monetary policy committee is expected to raise a key interest rate tomorrow by 25 basis points to a 2-1/2 year high of 6.75 percent. A focal point for investors will be whether the central bank drops a neutral stance that has been in place in its statement since February 2017.
"A rate increase at this time will push the economy into recession," said Deven Choksey, Mumbai-based managing director at KR Choksey Shares & Securities Pvt. "Global investors are nervous and are selling as a weakening currency is driving up portfolio losses. They have to recover losses around emerging markets and therefore we are seeing this selloff now spreading to large cap index stocks."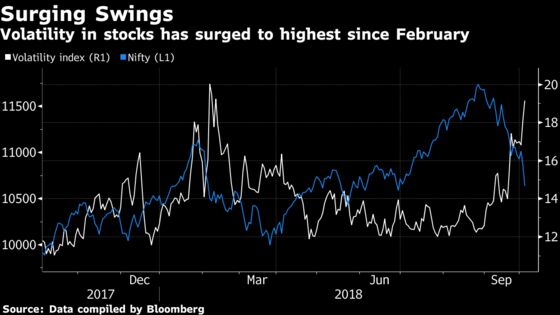 Brent crude's rally to a four-year high and rising U.S. treasury yields are beginning to hurt most emerging market currencies. The rupee has depreciated over 13 percent so far this year as the worst performer among major Asian currencies. Coupled with a domestic private lender's default, $294 billion has been wiped off the Indian stock market's capitalization since Aug. 8, sinking it below $2 trillion for the first time since August 2017.