Markets Weigh Modi's Election Performance as Indian Assets Swing
(Bloomberg) -- For the markets, a manic day boiled down to who wins the battle for a key central Indian state.
Shares and sovereign bonds gained, recouping losses, as the ruling Bharatiya Janata Party was seen still in the race to retain power in Madhya Pradesh. The optimism didn't rub off onto the rupee, which capped its biggest two-day drop since September.
Vote counts on Tuesday showed the Congress party set to cross the majority mark to wrest power from the BJP in the states of Rajasthan and Chhattisgarh, according to the Election Commission of India. Madhya Pradesh was too close to call. Congress' victories in the states could boost the party's momentum before next year's general election, and help it to exploit growing anger over unemployment.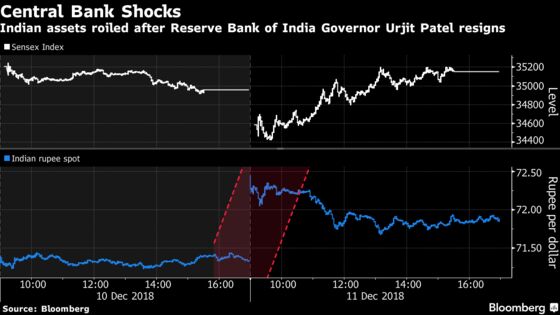 "The market is not reacting negative to the results because the expectation was that the BJP's performance in Rajasthan will be far worse, which is not the case, and Madhya Pradesh results is not that bad," said Amit Khurana, head of equities at Dolat Capital Market. "The feeling is the BJP may not be completely routed in general elections."
Markets were thrown into turmoil Tuesday after the shock exit of the central bank Governor Urjit Patel, who quit Monday hours after equities closed their worst session in two months. The exit dealt investors another bout of policy uncertainty when they were bracing for a test of the BJP. There's concern that electoral losses may force Modi to boost populist spending before elections, undermining the government's aim to stick to its fiscal deficit aim.
"Governor Patel's sudden exit intensifies market uncertainty and is negative for the Indian rupee," Prakash Sakpal, an economist at ING Groep NV wrote in note. "The next central bank chief will be under intense pressure from the government to concede to the latter's demands for more growth-friendly policies ahead of general elections in early 2019."
The Sensex eked out a 0.5 percent gain at the close, erasing an intraday loss of 1.5 percent, and a gauge of mid-cap stocks jumped the most in more than a month. Benchmark 10-year yield fell six basis points to 7.53 percent, while the rupee ended 0.7 percent lower to the dollar. State lenders were seen selling dollars to support the currency, likely on behalf of the RBI, Mumbai-based traders said.
Investor confidence in Indian assets had only recently bounced back, helped by a slide in oil prices and a dovish tone from the Federal Reserve. November saw the best rupee gains in nearly seven years, while local stocks saw their best month since July. Foreigners bought a net $868 million of shares in November after three months of selling, and plowed $889 million into local bonds, after avoiding the debt for most of the year.
Here's what other strategists are saying:
BlackRock (Belinda Boa, head of active investment for Asia Pacific and CIO of
emerging markets)
Patel's exit "doesn't change anything. We will see a replacement and given the MPC that was introduced to try to keep the independence I believe that still stays in place"
"Our expectations is there will be volatility as India moves into its election cycle"
BlackRock has been overweight Indian equities but is selective in taking risk. It has a preference for the domestic-focused sectors and is cautious on the fixed-income side
Prabhudas Lilladher (Ajay Bodke, chief executive)
Equities had priced a defeat in all three states for BJP in their decline on Monday, and there's a possibility of a rebound if the party is able to hold at least one state.
While people vote on different issues in state and national elections, one can't dismiss the results and it needs to be seen how the BJP interprets the outcome and what steps it takes to address the concerns.
Investors should brace themselves for a choppy ride in the next six to nine months; they should use declines to build a portfolio of stocks that are leaders in their respective businesses.
Mizuho Bank (Masakatsu Fukaya, emerging-market currency trader)
The market is speculating that the reason behind RBI Governor Patel's resignation is due to some friction with the government and that threatens the independence of the central bank, which is negative for the rupee
The RBI is probably intervening in the market, but typically, they don't intervene strongly to change the direction of the move
Nomura (Vivek Rajpal, rates strategist)
Governor Patel's resignation adds uncertainty to markets and hence will be treated negatively by the bond markets
Believe it doesn't change the monetary policy dynamics, but could introduce some term premium into rates market