Modi Keeps Pledge to Boost Crop Prices in Bid to Woo Farmers
(Bloomberg) -- India raised purchase prices for crops such as cotton, soybeans and paddy rice to ensure farmers get at least 50 percent more than their production costs, a move toward fulfilling Prime Minister Narendra Modi's pledge to double farm incomes by 2022.
The minimum support price for monsoon-sown paddy rice for 2018-19 season was increased to 1,750 rupees ($26) per 100 kilograms (220 pounds) from 1,550 rupees a year ago, food minister Ram Vilas Paswan said in New Delhi on Wednesday after a cabinet meeting. The price is 50 percent more than the production cost of 1,166 rupees estimated by the government. Prices of cotton and soybeans were also increased by 50 percent of the cost.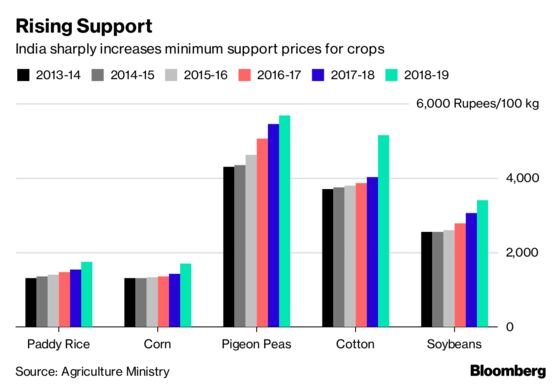 Higher guaranteed returns over the cost of production may help boost incomes of farmers, a key voter base for Modi who faces a general election in early 2019. The government has announced several programs to win the sympathy of the farming community as about 800 million of India's 1.3 billion population depend directly or indirectly on agriculture.
Higher support prices will boost production of oilseeds, encourage investments and help reduce India's imports bill, the agriculture ministry said in a statement. The increase will cost the government an additional 150 billion rupees, Home Minister Rajnath Singh said at a briefing in New Delhi, without elaborating. India, the world's largest buyer of palm oil, purchases about 70 percent of its edible oil needs from overseas.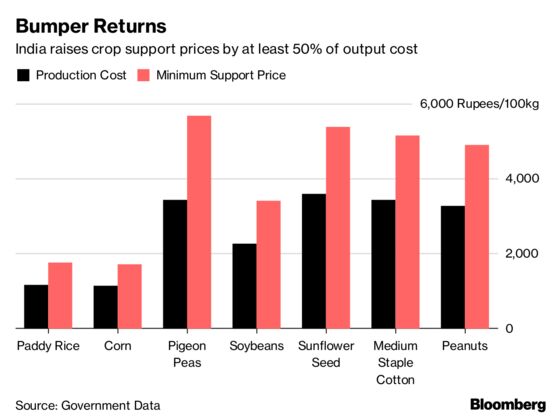 "While ensuring a 50 percent return over the cost of cultivation is likely to reduce some agri-distress, this would largely benefit the farmers with marketable surplus," said Devendra Kumar Pant, chief economist at India Ratings & Research, local unit of Fitch Ratings. About 85 percent of agricultural land holdings belong to small farmers, who usually don't have much surplus to sell in the market, he said.
Although the government announces purchase prices for about two dozen crops every year, it buys only small quantities of the commodities, except wheat and rice that is procured for its welfare programs.
India's headline inflation may rise by 70 basis points over the next two years due to a rise in support prices, said Shubhada Rao, chief economist at Yes Bank Ltd. in Mumbai. "We also don't see much impact on government finances. The budget has enough levers built in, especially through the food subsidy bill, which can absorb the MSP costs."
Prices of many crops have fallen below the support rates due to bumper harvests in recent years, triggering farmer protests. Farmers have been demanding that the government should introduce a mechanism to either ensure support prices by purchasing enough quantities or directly compensate them for their potential losses.
The most cost-effective way of fulfilling Modi's pledge to double farm incomes by 2022 may be by compensating farmers with cash when market prices of crops drop below support rates, Ramesh Chand, a member of the National Institution for Transforming India, told Bloomberg in an interview in May.