India's Dollar Swap Window May Lift FX Reserves Toward Record
(Bloomberg) -- The Reserve Bank of India's brand new liquidity-management tool -- a dollar-rupee swap window -- is likely to lift the country's foreign exchange reserves toward record highs, helping it tide over external risks, economists at HSBC Holdings Plc said in a note.
"These swaps have the advantage of adding to the stock of RBI's spot FX reserves," Pranjul Bhandari, chief India economist at HSBC, said. "Because three years is a sizable time -- enough to potentially ride out a full Fed tightening cycle -- this accretion to spot reserves is meaningful from an adequacy perspective."
That doesn't mean the RBI should stop outright dollar purchases, she said.
India's foreign exchange reserves were at $412 billion rupees in end-March, which Bhandari says is enough to cover more than 10 months of imports. Last year, the RBI had to draw down significantly from its reserves, depleting it to $392 billion in October from a record $426 billion, to defend the rupee amid a surge in prices of oil, India's biggest import, and the dollar's rise.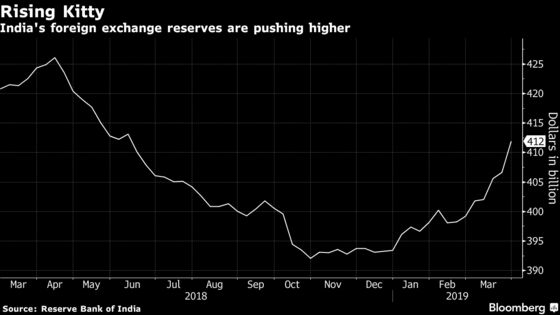 Foreign inflows chasing higher yields in India saw a revival in early 2019, but policy makers are wary about their reversal.
"From this perspective, an additional $20 billion of reserves, taking overall holdings to $430 billion, would provide an extra, useful cushion in a world of increased financial volatility," Bhandari added.