India Central Bank Pledges More Easing as Economy Set to Shrink
(Bloomberg) -- India's central bank cut interest rates in an unscheduled announcement on Friday and kept the door open for further easing to help an economy it expects will contract for the first time in more than four decades.
Governor Shaktikanta Das reduced the benchmark repurchase rate by 40 basis points to 4%, the lowest since the measure was introduced in 2000, and pledged to take "whatever measures are necessary" to support the economy. The monetary policy committee, which met ahead of its scheduled meeting in early June, retained its "accommodative" stance, implying it could ease policy further.
The rate cuts along with the central bank's move to allow borrowers more time to repay loans are expected to provide relief to India's stressed businesses and consumers, many of whom were left disappointed with the fiscal stimulus announced recently. Companies are struggling in the face of a collapse in demand, with millions of jobs already shed in an economy where consumption is the backbone of growth.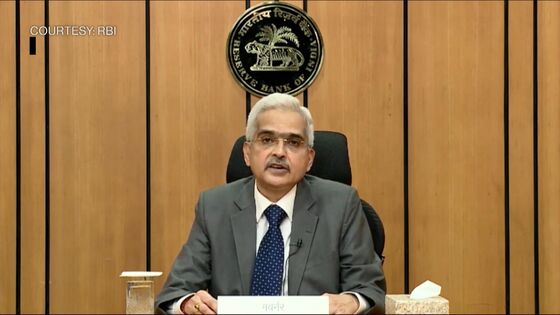 "Going forward, we will continue to be vigilant and we will take whatever measures are necessary to meet the Covid-related challenges which are ahead of us," Das said. "The RBI will continue to remain vigilant and in battle readiness to use all its instruments and even fashion new ones, as recent experience has demonstrated, to address dynamics of the unknown future."
The central bank now expects the economy to contract in the fiscal year through March 2021, Das said, after activity was brought to a virtual halt amid the coronavirus pandemic and measures taken to contain the outbreak. Goldman Sachs Group Inc. is predicting a 45% annualized decline in GDP in the quarter through June from the previous three months, which it said will result in the economy shrinking 5% for the full fiscal year.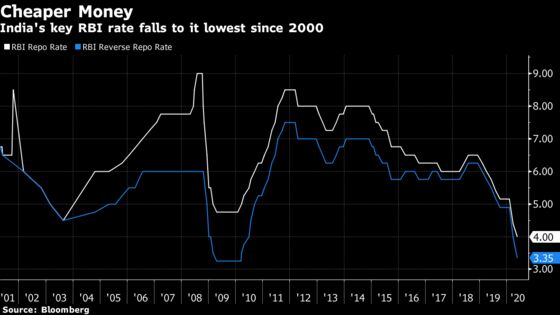 The yield on the most-traded 2029 bonds fell 11 basis points to 5.93% as of 1:23 p.m. in Mumbai, while that on the new 10-year notes dropped 3 basis points. The rupee weakened and stocks reversed gains to halt a three-day rally ahead of a long weekend.
"The off-cycle move may have caught the markets off-guard, but it shouldn't be a total surprise given recent dismal activity indicators," said Prakash Sakpal, an economist at ING Groep NV in Singapore. "GDP is headed for a sharp contraction, as much as 5% year-on-year on my estimate, in the current quarter."
Das's comment that the RBI could turn to new policy instruments signals his willingness to do more to bolster growth. The central bank has already pumped in more than $50 billion into the financial system and announced targeted liquidity operations to support some sectors of the economy.
What Bloomberg's Economists Say

The Reserve Bank of India's surprise 40 basis point cut to its policy repo rate at an unscheduled meeting on Friday isn't much in the context of the massive disruptions to economic activity as a result of the virus-induced lockdown. We doubt it will do much to spur a faster recovery in demand.

Click here to read the full report.

Abhishek Gupta, India economist
Calls are also rising for the RBI to buy government bonds directly from the government to help finance a widening fiscal deficit and surging borrowing. The RBI has been prevented from monetizing the deficit since a law was passed in 2006 banning its participation in the primary market.
Shilan Shah, a senior economist at Capital Economics Ltd. in Singapore, said there's likely to be further interest rate cuts and liquidity steps, like long-term repo operations, and perhaps a reduction to the cash reserve ratio. Deficit financing was an option "as long as the boundaries of it are very strict and well-defined so that it doesn't spook markets," he said.
The RBI has now lowered its benchmark rate by a cumulative 115 basis points so far this year after also cutting rates at an emergency policy meeting on March 27.
Das also outlined the following measures on Friday:
The reverse repurchase rate was cut to 3.35% from 3.75%
The moratorium on bank loans was extended for another three months
Rules for withdrawal of funds by states were relaxed
Limit on banks' group exposure to companies raised to 30% from 25%
Pre- and post-shipment credit rules for exporters eased
Foreign portfolio investors given an additional three months to meet investment needs
On inflation, the central bank expects the headline number to ease in the second half of the year and revert toward its medium-term target of around 4%. Core inflation, which strips out the volatile food and fuel prices, is likely to stay subdued, it said.
With fiscal pressures mounting and a credit rating downgrade looming, the central bank may have to shoulder more of the stimulus burden. While Finance Minister Nirmala Sitharaman last week announced an economic package of about 21 trillion rupees ($277 billion), or 10% of GDP, the actual fiscal cost amounted to just about 1% of GDP.
"With limited space for fiscal expansion, the central bank will have to do the heavy lifting," said Manish Wadhawan, founder at Serenity Macro Partners.