India Monsoon Seen Normal in Second Half After Deficient Showers
(Bloomberg) -- India's monsoon is likely to be normal in the second half of the rainy season after deficient showers in the June-July period, the country's weather office said on Friday.
Cumulative rainfall during August and September is forecast to be 95 percent of a 50-year average, according to the India Meteorological Department. Rain between 94 percent and 106 percent of the average is defined as normal for the two-month period, according to the weather office, which said that the forecast has a margin of error of 8 percent.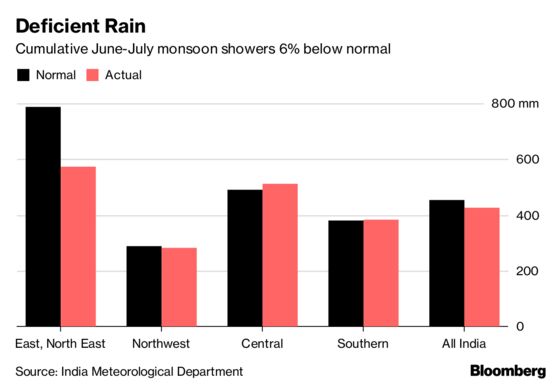 The monsoon is critical to the farm sector as it accounts for more than 70 percent of India's annual showers and irrigates more than half the country's farmland. About 700 million of the 1.3 billion population depend directly or indirectly on farming. Deficient rain in the South Asian nation, the world's second-biggest producer of rice, wheat and sugar and top grower of cotton, can lead to lower crop output and spur imports of commodities such as pulses and sugar.
Showers in August are seen at 96 percent, compared with an earlier forecast of 94 percent. The forecast has a margin of error of 9 percent, according to the weather office.
Rain in June and July showed the spatial distribution was good across the country, except in the eastern states of Bihar and Jharkhand and some parts of the northeast, according to the weather department. A similar performance is expected to continue during the reminder of the monsoon season and likely to remain favorable for agriculture, it said.
The probability of a below-normal monsoon is 47 percent during the August-September period, while odds of normal showers are 41 percent, the weather office said, adding that the chance of above-normal showers is 12 percent.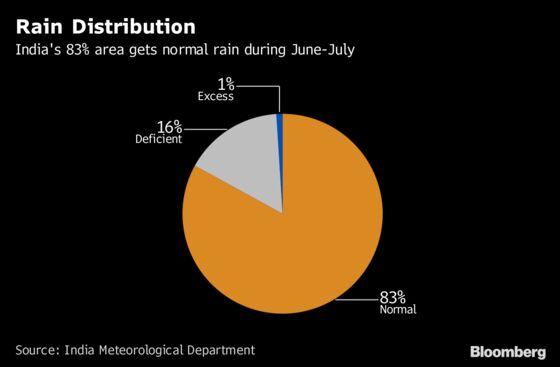 The weather office maintains its June-September forecast of 97 percent made on May 30, said D. S. Pai, head of the long-range forecasting division of the meteorological department.
Private forecaster Skymet Weather Services Pvt. said on Wednesday that precipitation during the rainy season is likely to be 92 percent of the long-term average of about 89 centimeters (35 inches).
As of now, it appears that rain may be below normal by the end of the season, Veeresh Hiremath, head of research at Hyderabad-based Karvy Comtrade Ltd., said. Rain distribution has been good so far and it will become crucial during the rest of the season when crops such as rice and cotton mature, he said.