India Expects Shadow Banking Default Amid Cash Squeeze
(Bloomberg) -- India's non-bank lenders may default on repaying debt raised from the nation's money market within the next six weeks if additional liquidity is not provided immediately, a person familiar the matter said, citing a letter written by the finance ministry.
Non-bank financiers and mortgage lenders have 2.7 trillion rupees ($37 billion) of debt maturing in the next five months, the person said, asking not to be named as the information is not public. According to the letter sent to the corporate affairs ministry, a default could adversely impact productive sectors of the economy, the person said. Bloomberg News has reviewed the correspondence.
Fixing the cash flow crisis at shadow banks is vital to revive confidence in the nation's credit markets at a time when India is grappling with rising oil prices and a weakening currency. Infrastructure Leasing & Financial Services Ltd., one of the country's non-bank financier, was taken over by the government last month after it started defaulting on its debt.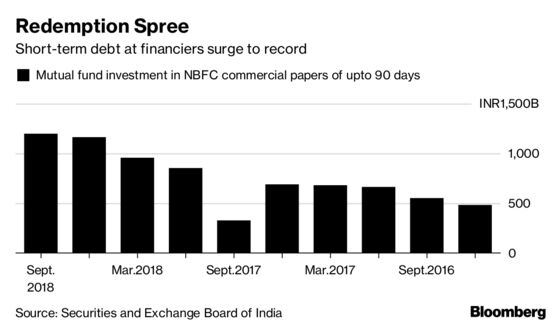 Finance Ministry spokesman D.S. Malik was not immediately available for a comment. The letter was first reported by financial news website Moneycontrol.com on Nov. 1.
INDIA INSIGHT: RBI Should Act to Defuse Political Rift
Financing costs throughout India's credit markets have ticked higher, meaning that rolling over all this debt will cost more. ET Now, a local television station, said on Wednesday that if the Reserve Bank refused to act on liquidity constraints, the government will not shy away from taking steps against it. The channel didn't identify the people for the information.